Why Bitcoin's Value is CollapsingCould It Get Worse from Here?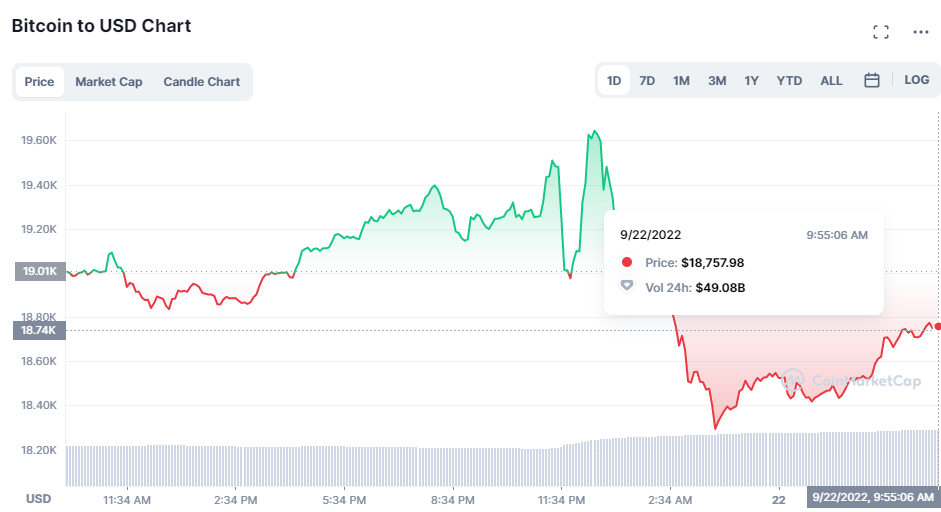 The price of Bitcoin has increased by 1.5% over the previous 24 hours, but it has decreased by 4% over the course of the preceding week. At its current price of $19,321, this represents a significant correction of 10.5% over the course of the previous 30 days, and due to the anticipation that the Federal Reserve — and other central banks — will maintain raising interest rates, it is likely that the original cryptocurrency has more suffering in store.
As a result of rising inflation and the likelihood that the ongoing conflict between Ukraine and Russia will continue to put upward pressure on oil and food prices, the current macroeconomic situation is not expected to change in the near future.
However, reports from certain nations have shown a slowing of the rate of inflation, and Ukraine has made headway in recent weeks toward recapturing areas of its territory that were previously controlled by Russian forces.
Bitcoin's Price Tumbles Further
The price of bitcoin has fallen during the majority of the months in 2022, and September has not been an exception so far. BTC has lost 55% of its value since the beginning of the year, and despite a brief increase to $22,500 in the days leading up to the Merge; it has lost 14% of that value since then.
According to the signs, Bitcoin continues to be on a downward cycle. In purely mathematical terms, it should start rising again relatively soon, especially considering that it is still 72% behind its all-time high of $69,044, which was reached in April.
Obviously, indications by themselves do not promise anything, and the current state of the economy is still considered to be rather precarious. Reports predict that the Federal Reserve will increase its base rate by another 0.75%, which will bring the rate up to the range of 3%-3.25%.
The Federal Reserve is scheduled to publish its most recent policy decision about rates today at 2:00 p.m. Eastern Daylight Time (1800 GMT).
It is instructive to note that an increase in interest rates of 0.75% points would bring them to their highest level since 2008, which was the height of the financial crisis. And with inflation now sitting at 8.3% in the US and 9.1% in the EU, rates are expected to remain high for some time to come, putting continued pressure on the price of bitcoin.
Blood Bath for Alt Coins
Considerably if the alternative coins logged modest gains the day before, their condition is even direr now than it was then.
In contrary to what many people anticipated would happen following the Merge, Ethereum has been one of the worst performers. On Thursday, when the transition from PoW to PoS was finally finished, the asset was trading for $1,600; however, it dropped to $1,500 just a few hours later.
After another daily drop of 10%, it is having difficulty maintaining a price over $1,300 at the moment. Since the Merge took occurred, the price of ETH has decreased by more than $300.

The discomfort is shared by the remaining larger-cap alternates as well. It appears like Binance Coin and Tron are not being affected as severely by this pullback, as their prices have only decreased by 6.5% and 5%, respectively.
On a daily scale, the prices of Polkadot, Uniswap, Shiba Inu, Avalanche, Polygon, and Cardano have all decreased by double digits.
It should come as no surprise that the entire market cap of cryptocurrencies has dropped by approximately $80 billion in only one day given the status of the altcoins with lower and mid-capitalization. This statistic is getting dangerously close to dropping below $900 billion for the first time in several weeks.
Ray of Hope
Even if a significant upturn in the economy is not predicted until at least the beginning of 2023, there are indications that the economy may have already achieved its maximum level of inflation and interest rates.
To start, inflation rates have either leveled out or began to fall in certain nations. This is a positive development. Inflation in the United Kingdom decreased by 0.2% between the months of July and August, although it still remained high at 9.9%.
Although the price of oil has seen a little decrease in recent weeks after reaching record highs in the immediate wake of Russia's intervention into Ukraine, the prices are still considered to be rather high overall. The situation is very much the same with regards to the cost of food, despite the fact that food prices still have some more dropping to go.
Oil and food are both intertwined with the situation in Ukraine, and while there is no sign of an imminent resolution to the fighting there, it is important to note that Ukrainian troops have recaptured significant swaths of territory over the course of the past several weeks.
A few days ago, Russian President Vladimir Putin responded to losses by enforcing partial conscription as a way to increase his forces. However, although this step may boost his forces, it may also be interpreted as a show of desperation because it may prolong the fight even further.
Final Word
Since the beginning of 2022, Bitcoin has not undergone any fundamental shifts, regardless of when they may have occurred. The asset management BlackRock, which manages assets worth trillions of dollars, launched its own private bitcoin spot fund in August, indicating that banks and other financial institutions are becoming increasingly interested in it.
As a consequence of this, it is still in a position to rally once again when conditions become more favorable. However, for the time being, it is possible for it to drop a little bit further if the Fed follows forward with its planned rate rise in a few hours.
One more thing that is essential for investors to keep in mind is that there is one cryptocurrency called Tamadoge that they should be on the lookout for at all times. It has already had a tremendous amount of success during the presale, and every major listing is on the edge of listing this coin. As a result, it is poised to become the next big thing, and you can get it at a reduced price right now.
Tamadoge – Play to Earn Meme Coin
Earn TAMA in Battles With Doge Pets
Capped Supply of 2 Bn, Token Burn
Presale Raised $19 Million in Two Months
Upcoming ICO on LBank, Uniswap