Ways to cash out your bitcoin or crypto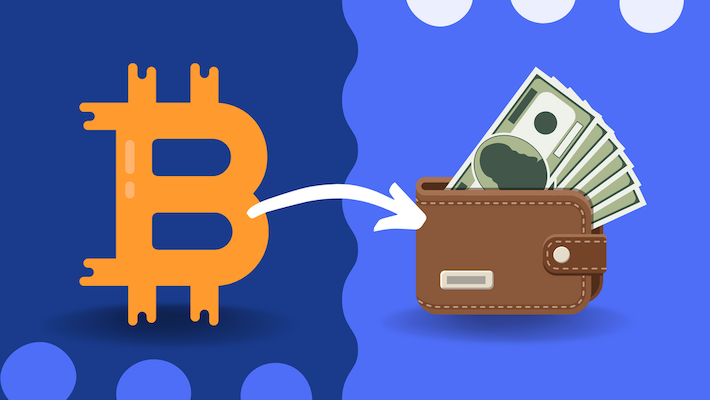 You might be asking how to get out of your investment given the collapse in cryptocurrencies like Bitcoin in 2022. The good news is that there are many options for traders to convert their digital currency into U.S. dollars, despite the fact that certain businesses have made it difficult for investors to convert their cryptocurrency into real money.
If you're selling any kind of asset, you should be aware of the tax repercussions. If you're booking a capital gain, you can owe a ton of money, and the tax rate will depend, among other things, on the holding term. Of course, if you're selling at a loss, you might be able to claim a write-off. But it might be wiser to wait out the fall if you believe that cryptocurrency will eventually rebound.
Here are five ways to cash out your Bitcoin or cryptocurrency.
1. Sell cryptocurrency using an exchange.
Utilizing a centralized exchange like Coinbase is one of the simplest ways to cash out your cryptocurrency or Bitcoin. With the simple-to-use "buy/sell" option on Coinbase, you can select the cryptocurrency you want to sell and the price.
You may access your cash balance at Coinbase by rapidly exchanging your Bitcoin for cash. If you choose, you can then transfer the funds to your bank account.
And while though Coinbase is a well-liked alternative for selling cryptocurrencies, if you don't have custody of the coins yourself, it's probably best to use whatever exchange currently holds them. Top exchanges include Kraken, FTX, and Binance.
2. Use a broker to sell cryptocurrency.
The simplest option is to stick with the broker who already has your crypto currencies. For instance, it will be easiest for you to simply execute a trade on their platform and be finished with it if you are a customer of Robinhood or Webull, both of which provide substantial crypto trading.
You'll have the money in your account when the deal is finished, and you'll then be prepared to make another trade.

3. Choose a peer-to-peer transaction.
You can also conduct a direct trade by offering to sell your bitcoin to another person without going via a middleman. The most widely used method, while it might also be done in person if necessary, is a peer-to-peer online marketplace that enables sellers to locate the best offers through an exchange.
You can exchange your bitcoin for dollars through an online peer-to-peer trade. After consenting to a trade, the platform escrows your cryptocurrency. Binance operates a well-known online peer-to-peer platform called Binance P2P to handle these transactions. Binance will release the cryptocurrency to the buyer on the platform once you have verified the transaction record in the payment account and that you have indeed received the buyer's payment.
Online marketplace Paxful is an additional well-liked choice. In addition to being able to choose their own prices, sellers have access to more than 300 different payment methods, including cash, gift cards, and other virtual currencies. According to the platform's website, customers can market their products directly to more than 3 million consumers globally.
4. Get cash from a Bitcoin ATM
According to California-based Bitcoin ATM provider Hermes Bitcoin, cashing out at an ATM is the same as selling your Bitcoin. You can use your bitcoins to have fast access to cash at bitcoin ATMs. Bitcoin ATMs don't function the same as regular ATMs. The ATM offers a QR code that you can send your Bitcoin to in order to withdraw cash and sell your cryptocurrency. You only need to wait a little while to get your money.
However, the commissions on Bitcoin ATM trades can be extremely high, so it's vital to be aware of how much you're spending and whether it would be better to take a different path.
5. Transact in cryptocurrency, then withdraw funds
You'll need to utilize a side method to receive your money because some exchanges do not permit the conversion or sale of certain cryptocurrencies for dollars. You might first need to transfer or convert your cryptocurrency to another well-known currency, like the stablecoin Tether, depending on the exchange you use, before converting it to dollars.
To sum up
There are numerous options for traders to sell their cryptocurrencies. Popular cryptocurrency exchanges are a safe bet because they are reputable and well-known, while online marketplaces that support peer-to-peer trading could give you more payment options. To get quick access to your cryptocurrency, you can take the easy path and utilize a Bitcoin ATM, but the commission will be substantially greater.
Related
Tamadoge – Play to Earn Meme Coin
Earn TAMA in Battles With Doge Pets
Capped Supply of 2 Bn, Token Burn
NFT-Based Metaverse Game
Presale Live Now – tamadoge.io