Top countries for buying real estate with crypto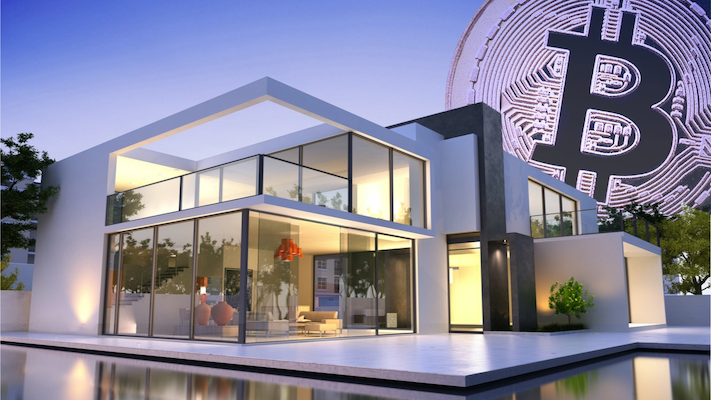 The widespread adoption of cryptocurrencies has unleashed enormous potential in the fintech industry, with some capabilities spilling over into the real estate market. As a result, the real estate industry is adapting to accommodate a new generation of investors who prefer to make payments in cryptocurrency.
Following a market explosion that saw Bitcoin breach the $60,000 mark in 2021, the trend of investing in real estate with cryptocurrency gained traction. Because of their transformative impact, numerous jurisdictions have amended their real estate laws to allow crypto property purchases.
According to Alexander Tkachenko, CEO and Founder of the VNX liquidity mining platform, the full potential of cryptocurrency in real estate remains untapped.
"There is still a huge demand around the world for alternative financial and payment instruments," he said, adding that favorable regulations would go a long way toward creating a more enabling environment for both industries: "Development of regulation that will create clear rules for industry players and protect investors."
Scott Scherer, CEO of Owners Unity, a company that enables homeowners to generate passive income from their assets using a decentralized finance (DeFi) model, agreed with Tkachenko, saying, "Investors and governments have come to accept the fact that crypto is here to stay."
He went on to say that because crypto networks are more efficient than traditional banks, investors are increasingly using them to transact.
"The projection that tokenization will help to make real estate more liquid is not far from the truth," said Anastasia Kor, chief marketing officer and board member of the innovative MetaFi ecosystem, Choise.com. Tokenization will take luxury properties that are currently restricted to a specific region and make them global and accessible to interested buyers and investors worldwide."
So, which countries currently allow cryptocurrency purchases of real estate?
Thailand
Thailand was one of the first Asian countries to legalize the use of cryptocurrency. The country currently allows real estate buyers to pay with cryptocurrency. Investors who want to use this method of payment must look for local accredited real estate agencies that accept virtual currencies.
While the country previously prohibited cryptocurrency trading, the ban was lifted in February 2014. Today, major cryptocurrencies such as Bitcoin and XRP can be traded in accordance with Thai Securities and Exchange Commission rules (SEC).
While individuals are permitted to trade in cryptocurrencies, regulated financial institutions operating in the country, including banks, are not. As a result, buyers looking to buy property in Thailand using cryptocurrency are likely to use alternative money transfer systems for transaction settlement.
UAE (United Arab Emirates)
The UAE is a top business destination and is emerging as a major crypto hub, with many international crypto organizations setting up shop in the country to capitalize on the country's burgeoning status. The country's cryptocurrency market has grown multifold in the last two years and is expected to grow tenfold in the coming years, assuming all other conditions remain constant.
For a long time, the country has been a model of exceptional architectural marvels, cementing its position as a leading Middle East/North Africa real estate powerhouse. Some of the nation's radical structures have emerged as a result of government-led initiatives aimed at increasing interest in the local real estate market.
The convergence of the crypto and real estate sectors has prompted the establishment to allow the two industries to collaborate in order to open up the real estate sector to global investors and accelerate the development of its non-oil economy.
Currently, crypto users in the UAE can use digital currencies to purchase houses, villas, apartments, and buildings through authorized agencies.
On the regulatory front, the central bank has yet to designate cryptocurrencies as legal tender, so there are some constraints, such as banks' lack of crypto service provision. Crypto transactions between individuals and some regulated real estate agencies, on the other hand, are permitted.
Turkey
Cryptocurrency use is widespread in Turkey, with over eight million Turks owning digital currencies. Adoption is fueled by a variety of factors, including runaway inflation, which has resulted in the depreciation of the Turkish lira. Over the last two years, the national currency has lost more than half of its value against the US dollar.
Real estate agencies in the country are beginning to accept cryptocurrency payments as more people use cryptocurrency to transact.
Through regulated real estate agencies, investors can purchase property in the transcontinental country. People who invest at least $250,000 in fiat or the equivalent in cryptocurrency in real estate have the option of obtaining direct citizenship through the Turkish golden visa program.
Portugal
Portugal is one of the European Union's most crypto-friendly countries. As a result, it is not surprising that the government has made it possible for investors to purchase real estate using cryptocurrencies. Previously, buying real estate with cryptocurrency was permitted, but the funds had to be converted into fiat before the property transfer could be completed. This changed in April, when new relevant legislation was enacted.
Notaries can now ratify real estate transactions involving cryptocurrency under new legislation.
Furthermore, digital currencies do not need to be converted into fiat currency in order for property ownership transfers to be valid. The new rule classifies these transactions as barter deals.
Montenegro
Montenegro is one of the most financially liberal Balkan countries, and the country has no special requirements for cryptocurrency transactions, including crypto real estate purchases. Notably, the country has made concerted efforts in recent years to become a major crypto center due to the potential macroeconomic benefits.
It granted Ethereum co-founder Vitalik Buterin citizenship in April as part of a campaign to attract crypto investors to the country.
Real estate investors using cryptocurrencies to purchase property in Montenegro face few complications as long as the transaction is sanctioned by a certified notary.
Georgia
Georgia has a lot to offer investors and many laws in place to encourage foreign investment. Investors who wish to invest in the country, for example, pay no taxes on capital gains, including returns from cryptocurrency investments. There are no currency transaction limits as well.
While it is possible to buy real estate in Georgia using cryptocurrencies, it is important to note that the country's cryptocurrencies are unregulated, so the final purchase figures entered in the property register must be in fiat.
Property purchases using cryptocurrency can only be made through licensed real estate agencies that provide this service.
Canada
According to Finder's Crypto Adoption October 2022 report, over 2.5 million Canadians own cryptocurrency. As a result of this dynamic, more real estate firms in the country are accepting cryptocurrency payments.
For cryptocurrency investors looking to buy property in Canada, authorized real estate companies that accept cryptocurrency payments can help ensure compliance.
Some real estate brokers also offer cryptocurrency-to-fiat conversion services to help with the process, as property sales in the official registry must be in Canadian dollars.
Crypto users who want to buy real estate with digital coins should consult with tax advisors first to avoid tax complications, as Canadian regulations take capital gains taxes on cryptocurrencies seriously.
Cryptocurrencies have the potential to disrupt the notoriously illiquid real estate market. Allowing crypto real estate purchases not only diversifies payment options, but also makes it easier for international investors who dabble in crypto to acquire real estate assets globally.
Related
Dash 2 Trade – High Potential Presale
Active Presale Live Now – dash2trade.com
Native Token of Crypto Signals Ecosystem
KYC Verified & Audited