Top 10 Best NFT-Related Cryptocurrencies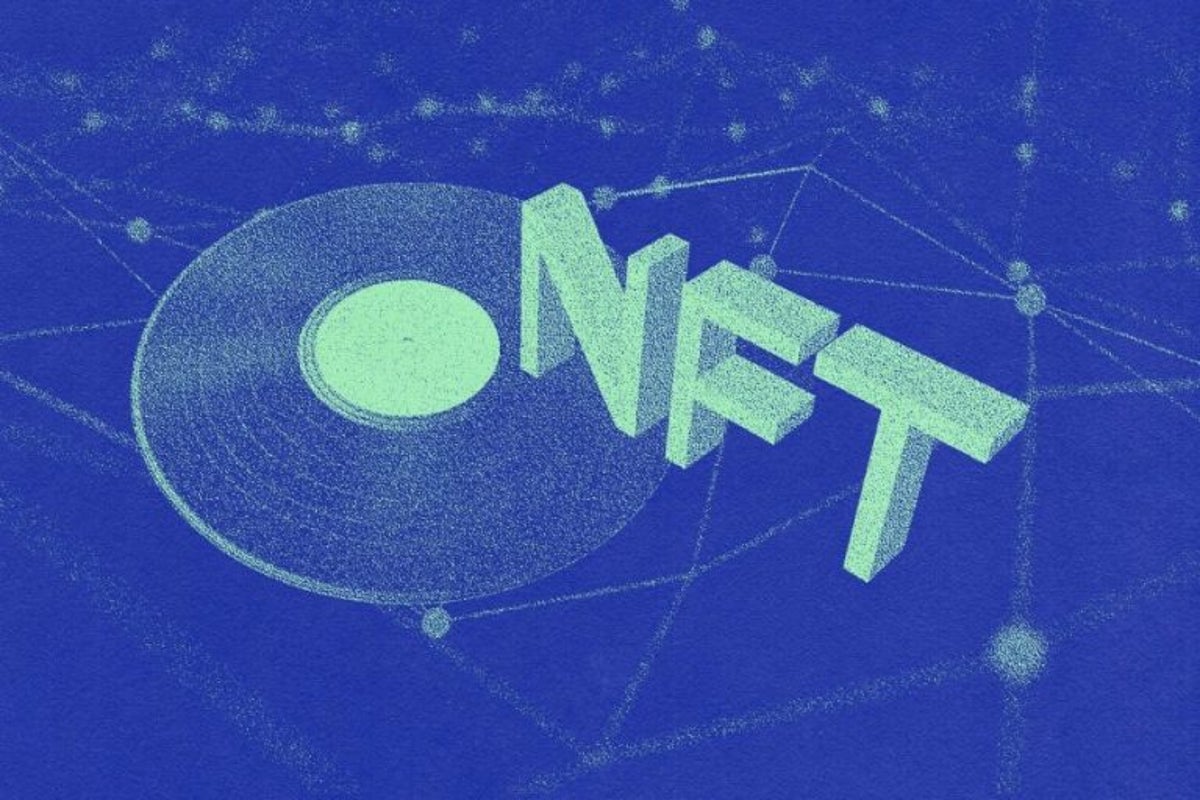 Want to purchase NFTs or NFT-related cryptocurrencies? You may need to sign up for an exchange account to buy Ethereum on eToro or WeBull first.
Over the past couple of years, the non-fungible token (NFT) sector has grown into a multi-billion dollar industry. NFT-related cryptocurrencies have also seen tremendous growth in value. If you want to get involved with the NFT ecosystem but are not ready to purchase your first NFT, it may be a good idea to purchase NFT-related cryptocurrencies.
What Are NFTs?
NFTs represent a unique piece of digital content backed by the blockchain. The content can be attached to the NFT but is not the NFT itself. 
Defining fungibility drives an understanding of what NFTs are. The term fungibility means assets that hold equivalent value. For example, one ounce of gold is equivalent to another ounce of gold, and one Bitcoin is worth the same as one Bitcoin, making gold and Bitcoin fungible assets. 
Non-fungible assets are assets that hold distinct a value based on their traits. Some examples include cars, real estate and art. Each of these assets holds value because of its unique characteristics. For cars, some of these characteristics might include condition, appeal and mileage. NFTs are assets that are verified using blockchain technology.
NFT Cryptocurrencies
Ethereum (ETH)
Ethereum is the second largest cryptocurrency by market cap and has the largest ecosystem when it comes to NFTs. Being one of the first Layer 1 cryptocurrencies to implement smart contracts, NFTs gained popularity on its blockchain. Ethereum smart contracts allow NFTs to work for several reasons aside from phishing scams, its nearly impossible to steal an NFT on the blockchain, and it's simple to prove ownership.
Polygon (MATIC)
Polygon is an Ethereum Layer 2 scaling solution. Ethereum's high gas fees can drive users away, but Polygon has a solution to that problem by allowing users to mint NFTs outside the Ethereum network. Polygon lets users to buy and sell NFTs with low gas fees.
Solana (SOL)
Solana is another Layer 1 cryptocurrency with smart contract capabilities enabling NFTs. Solana has the ninth largest in market cap at $14 billion. Additionally, Solana is the second largest blockchain by NFT sales volume in the past 30 days. Its unlikely that Solana will pass Ethereum in terms of its market cap; however, the network has its advantages. One of the main advantages Solana has to offer is its low gas fees when trading NFTs.
ApeCoin (APE)
The company behind ApeCoin Yuga Labs takes ownership of multiple blue-chip NFT projects such as Bored Ape Yacht Club (BAYC), Mutant Ape Yacht Club, Meebits and Cryptopunks. The token is native to the Yuga Labs ecosystem and will likely have a ton of utility among its projects one day. A bet on ApeCoin is a bet on Yuga Labs, although the token could be integrated outside of the Yuga Labs ecosystem. Yuga Labs continues to innovate and add valuable utility to its ecosystem. In March 2022, the same month ApeCoin was released, Yuga Labs closed a round of seed funding at $450 million, valuing the Web3 company at $4 billion. Some notable investors include Samsung, Adidas, Google Ventures, Animoca Brands, Sound Ventures, FTX and MoonPay.
The Sandbox (SAND)
The Sandbox is a virtual world built around in-game assets like decorations, plots of land and games. Originally, the developers wanted to make a game similar to Roblox and Minecraft that gave users full ownership of their creations by using NFTs. SAND is the cryptocurrency players use to trade NFTs on the Sandbox marketplace. 
Decentraland (MANA)
Decentraland is a virtual reality game that combines crypto, real estate and video games. Players can create virtual worlds and use NFTs to verify their ownership. The MANA token is native to Decentraland, and it powers the Decentraland open-world gaming platform. You can use it to pay for in-game goods and services.
Origin Protocol (OGN)
Origin Protocol is an established platform for DeFi and NFT infrastructure on Ethereum's blockchain. Origin's OGN token represents Origin Story, its NFT platform for branded marketplaces and creator launchpads. Origin Protocol has worked with creators among the likes of 3LAU, Paris Hilton and BT, as well as NFT collections Pudgy Penguins, Karafuru, and Moonrunners.
Its branded marketplaces aggregate listing from Opensea, Looksrare, X2Y2 and other leading marketplaces. The platform offers advanced analytics not offered on other marketplaces, making it a go-to choice for seasoned NFT collectors. Unlike most NFT marketplaces, investors can stake OGN tokens to earn the trading fees accrued by Story, paid out several times per year in Ether.
Looksrare (LOOKS)
Looksrare is an NFT marketplace that rewards users for using its platform with the LOOKS token. It is a new marketplace; however, in February, it saw an average daily volume of over $120 million. Today, the marketplaces volume is down along with the rest of the market, but it still sees an average daily volume of over $5 million.
Best For

Market-leading Liquidity
Axie Infinity (AXS)
Axie Infinity is a play-to-earn gaming platform blacked by the blockchain. Play-to-earn means that players can earn AXS token by playing Axie Infinity. The game consists of Axies, which are NFTs that can be bought and sold on its NFT marketplace. Axies are creatures you can use to progress through the game. AXS is the governance token for Axie Infinity. If youre looking to invest in a unique NFT gaming platform, AXS might be the token for you. Holders of AXS are granted governance rights in which they can vote on the future of the gaming platform.
Enjin (ENJ)
Enjin has combined NFTs with the gaming industry. Enjin's platform allows game creators to produce video game objects as NFTs. To further integrate these NFTs, Enjin allows users to sell these in-game items on its marketplace, opening up a new revenue stream for game producers. Enjin is one of the best NFT cryptocurrencies because it is a foundation of one of the fastest growing sectors in the market, NFT gaming.
Why Do NFTs Have Value, Anyway?
Unlike Web2 where participation in a network is controlled by a central authority, Web3 is meant to give ownership to its users. Ownership is granted to these users using blockchain technology. NFTs represent digital ownership, which can grant you access to members-only events, exclusive goods and token-gated services.
Many NFTs with significant value today are digital art collectibles. Similar to traditional art, these gain value by being created by a reputable artist or having historical significance. However, being on the blockchain, NFTs have achieved things that traditional art has not been able to do.
Owning blue-chip NFTs can grant you exclusive access to other investment opportunities. In March, BAYC owners received a six-figure airdrop in ApeCoin (at its peak) for owning a piece of the BAYC collection. Adidas gave Ape holders early access to its NFT collection, allowing them to profit from the release on the secondary market. 
Another factor that plays a significant role in the value of NFTs is social capital. Holders of high-value or blue-chip NFTs are often given recognition and power within the Web3 space. 
Let's take a look at BAYC, a collection currently sitting at a floor price of 70 ETH (over $110,000 USD). You could have purchased a piece from this collection in 2021 for only 0.08 ETH, about $192 at the time. Being a holder comes with the power to influence others, especially if youve been involved since day one because people see you as a wealthy crypto enthusiast with a considerable knowledge base in the space.
Members of a recognizable NFT collection can be seen as and often are a part of an exclusive club. Although instead of paying a yearly membership fee, holders own an NFT within the collection which may actually end up being profitable.  
Lets compare Soho House to BAYC. Soho House is a paid-for members-only club with locations all around the world. You can only get into Soho House if you are a member or you go with someone who is a member. Many A-list celebrities are members just as they are members of BAYC, which also has members all over the world and frequently has exclusive holder-only parties and events. Both Soho House and BAYC are communities that offer exclusive events.
Investing In NFTs
If you are considering investing in NFTs, it's important to understand the risk factors that are associated. Crypto is known for its volatility; however, NFTs are considerably more volatile. Many years from now, or even months from now, the majority of NFT projects may not be worth anything. NFTs have seen tons of growth in 2021 and 2022, but that growth may not last forever. It appears that the NFT market is here to stay, but the NFT market could lead to a bubble. Like individual stocks in the stock market, not all NFTs will end up being profitable. You could avoid some of this risk by investing in the best NFT cryptocurrencies instead because they are less volatile but they are still risky investments.
Fungible vs. Non-Fungible Assets
One of the key differences in investing in fungible versus non-fungible assets is how theyre exchanged and traded. Fungible assets are considered liquid. Non-fungible assets are much more illiquid, meaning they take more time to be sold. 
The U.S. dollar, a fungible asset, can be easily traded for another U.S. dollar. On the other hand, a non-fungible asset such as a trading card cannot be indiscriminately traded for another trading card because each is unique.
To trade an NFT, you need to connect your crypto wallet to an NFT marketplace. 
Is It Too Late to Get Into NFTs?
No, it is not too late to get into NFTs. NFTs are just getting started, and a lot of exciting opportunities await. However, the ecosystem is bound to change drastically over the next few years. Getting into NFTs is a very risky investment, and you can lose a lot of money. Before investing in anything, including NFTs, do your own research and only invest capital you are willing to lose.
Frequently Asked Questions
Questions & Answers
Q
What's the most popular cryptocurrency to buy NFTs with?
A
The most popular cryptocurrency in the NFT space by far is Ethereum.
Q
Can you buy NFTs with Bitcoin?
A
No, Bitcoin does not offer smart contract capabilities, so you cant buy NFTs with it. Instead, you will need to pick up a crypto like Ethereum or Solana.