These 3 reasons may cause the XRP price to explode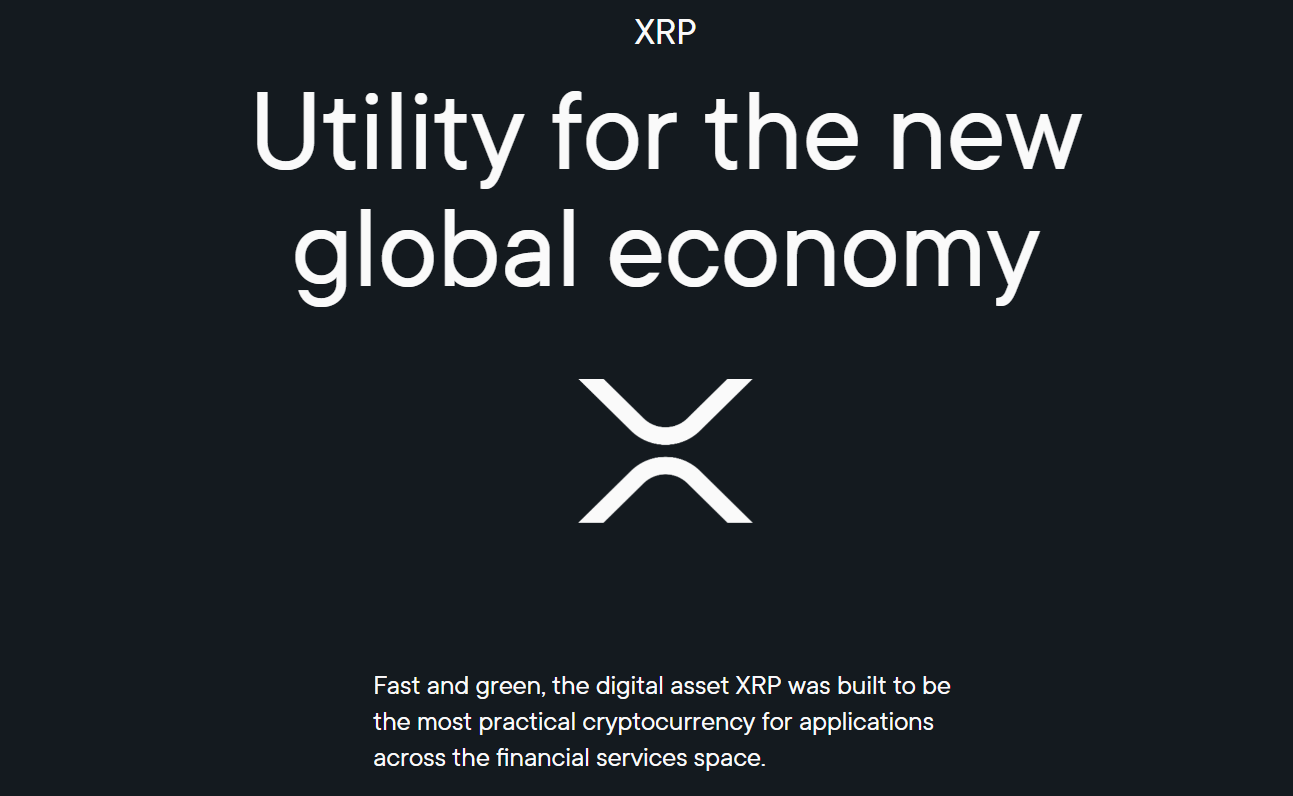 Cryptocurrency as a decentralized virtual asset has always been subject to massive criticism over the years. Despite this, the solutions provided by the sector not only have been popularised in the past two years but have also been embraced by a wider audience. For the same reason, they have been booming again recently in terms of popularity and many people have started investing rather heavily, despite the current crypto winter.
For the past couple of months, however, cryptocurrency fans and investors have been rather doubtful of the potential move of their assets. Bitcoin – the frontrunner cryptocurrency had seen more than 50% of red returns. The token, which has crashed from its all-time high of about $65,000 is now standing at about $19,000; around 72% lower in value.
Some reasons for the downfall of cryptocurrency included the Russia vs Ukraine War, and high inflation resulting in interest rate hikes by feds. However, the community managed to hold on to their assets in hopes that they might see a reversal soon. One of the biggest among these communities was that of XRP or Ripple.
While XRP didn't perform as expected even in the last bull run, investors have now been speculating a major pump in the upcoming months. Read on to know why.
A growing community
XRP has one of the biggest communities in the world in terms of cryptocurrencies, It is no doubt that the altcoin had completely dominated the bull run of 2017. Since then, the project has managed to amass a massive chunk of the investing citizenry as a dedicated community.
Even during the lawsuit, the community had shown their strength through their tweets and other kinds of social media posts on various platforms. This itself had caused several people to become bullish on the token previously. The current bullish sentiments that are further backed by strong fundamentals could also contribute to the growth in the token's price.
Next Ethereum
Ethereum Is one of the biggest ever cryptocurrency projects in the space and currently boasts of one of the biggest communities. It is the second largest currency in terms of market cap and has been one of the most important assets for investors during the last bull run. However, Ethereum too has its own share of drawbacks and has been struggling to solve them.
XRP is a payments system, which is one of Ethereum's main use cases. However, XRP has a fee of 0.00001 XRP for validating the transaction as compared to Ethereum which stands at $0.621 which is way higher. Transaction fee for the Ethereum network is reducing day by day as the fee was about $10.32 a year ago. During times when transactions were at an all-time high, this fee would go well over $40 too.
Ethereum takes around 5 mins – 4 hours to confirm and validate a transaction whereas XRP takes just 3 to 5 secs which takes it totally out of the competition.
SEC vs Ripple Lawsuit gets expedited
US Securities and Exchange Commission(SEC) filed a lawsuit against Ripple on 22 December 2020 for illegally raising over $1.3 Billion. Between 2012 to 2020, Ripple sold around $1.3 Billion worth of XRP through illegitimate means stated to SEC. Ripple responded that its token XRP does not qualify as an investment vehicle, and alleged SEC for distorting the facts.

The case which lasted more than 2 years since the lawsuit was filed, may now be nearing its final verdict. This is because both parties had mutually appealed to the court to get a summary judgement. This would mean that the judge would be set to give a final verdict, based on the existing evidence that has been gathered in the past two years.
A huge part of the financial world has been betting on Ripple to win the case, as the evidence provided by the company seems to prevail over SEC's claims. If this does infact happen, then it will be likely that the token moves up in price drastically.
What is XRP?
XRP is a coin of Ripple which is a global cryptocurrency blockchain network developed by Jed McCaleb, Arthur Britto and David Schwartz. It is mainly handled by Ripple on its ledger making it a centralised network. The main aim of XRP is to replace SWIFT (The Society for Worldwide Interbank Financial Telecommunication) and implement it on an international level making it the leading global fund transfer network.
Fees for conducting transactions on the XRP network are 0.00001 XRP, making it one of the cheapest modes of cross-border transfer technology. XRP is mainly bought for investment and also for financial transactions on the XRP network. While the project also has its fair share of critics, XRP has managed to position itself as "the future of banking".
The main reason for investing and making financial transactions through the Ripple network is Adaptability – Making it very easy to use, Fast Transactions – Having fast settlements as low as 3 to 5 secs, and Low Fees – Making it almost free.
Launched in June 2012, the token has frequently seen sharp inclines as well as declines. XRP was one of the best-performing altcoins in the bull cycle of 2017. Starting from April 2017, when the approx value of one XRP token was around $0.02089 the token went on a continuous uptrend reaching around $3 by 2018 before it crashed again.
But after the covid-19 market dump, XRP had a huge boom. It made its 52 Week high at around $1.8. But from that time till now, as all the cryptocurrency is facing red flow, XRP is also down to approx $0.46.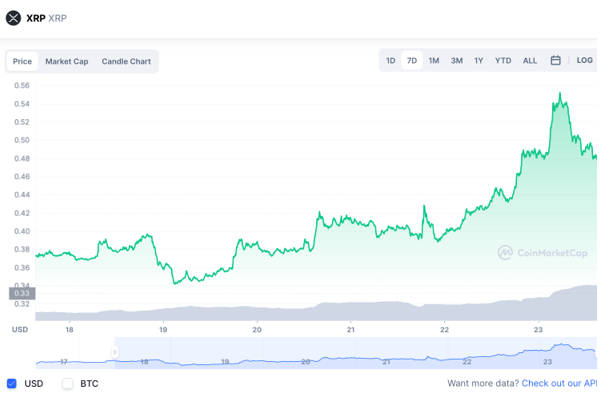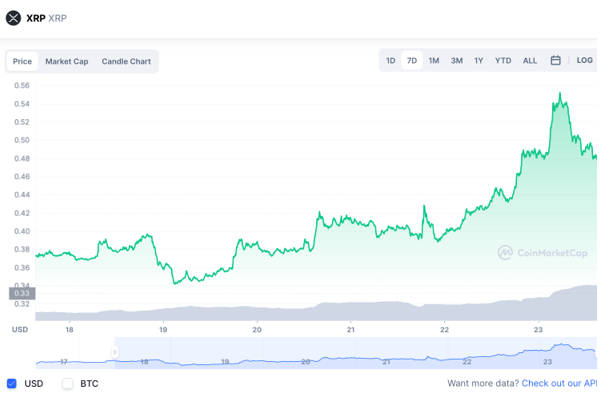 While these factors can surely influence the price of XRP in the upcoming days, it is highly likely that the most possible outcome would be a continuous uptrend. At the time of writing, XRP is trading at around $0.47 with a market cap of more than $23 billion.
Buy XRP on eToro
Your capital is at risk.
Read More
Tamadoge – Play to Earn Meme Coin
Earn TAMA in Battles With Doge Pets
Capped Supply of 2 Bn, Token Burn
Presale Raised $19 Million in Under Two Months
Upcoming ICO on OKX Exchange