Is the Cardano price Poised For a Push Back to $0.50?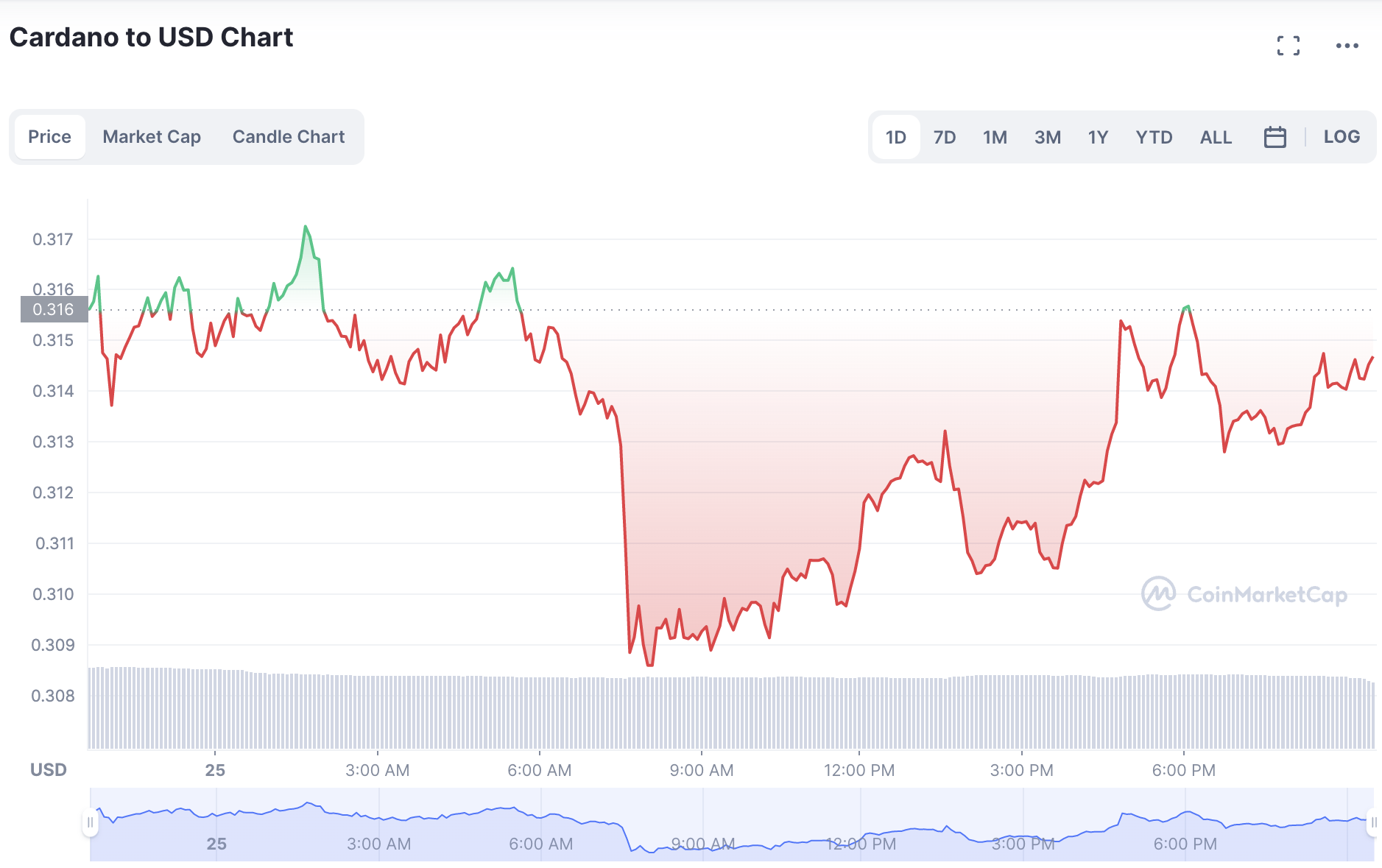 At around 8 AM today, the Cardano price bounced from its $0.3 level and seemed to be slowly heading to break the $0.31 barrier. Is Cardano poised for pushback of $0.50?
The Sudden Uptick in the Cardano Price Might Be Just a Knee-Jerk Reaction
Cardano has been accumulating around $0.30 since the FTX issue pushed the crypto market into an economic downturn. Throughout the sideways trading days, there has not been much action in Cardano's price. And the #CardanoSummit2022 didn't manage to make as many waves as it could have, considering the tweets about it have hardly gotten any traction.
I'm incredibly honoured to be a Cardano Ambassador, host #CardanoSummit2022 with @Cardano_CF and meet Cardano community members from all over the world. My heart feels overjoyed ❤️ Our #Cardano Community is without a doubt getting stronger and stronger every day 💪 pic.twitter.com/sVSH9GW0xF

— BREAK pool 🥳🇹🇭 (@BreakingADA) November 24, 2022
After going to the Cardano Foundation's official channel, one will find that only the staunchest supports are talking about cryptocurrency. The comments of CoinmarketCap aren't any better, with more people showing bearish sentiment about this cryptocurrency than bearish.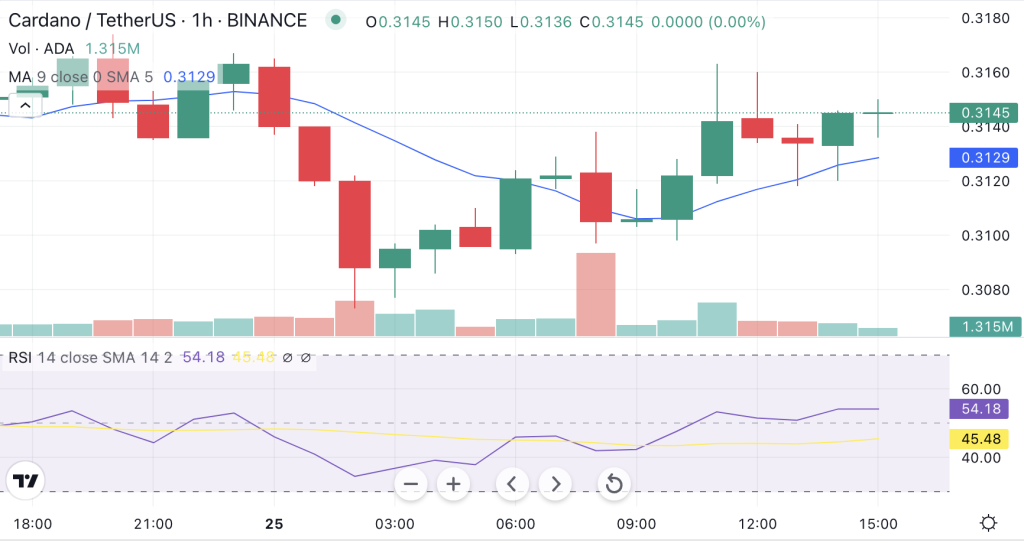 But the current hourly charts show Cardano trading in more green zones than red, with the token moving slightly above its daily moving average. And the RSI puts its price action just in the middle. These price actions are minuscule at best. And considering the latest news about the Ardana development, this $0.50 mark seems like a faraway dream.
Cardano Postponts the Development of Ardana, The DeFi Project
The FTX-led second crypto winter has impacted most of the major cryptocurrency projects, and Cardano is no stranger to it. However, Cardano's problem began much before this latest downturn.
Ardana was one of the major Cardano DeFi projects in development that raised $10 million in a funding round led by Three Arrows Capital. Three Arrows Capital, as you must know, is a defunct crypto hedge fund that filed bankruptcy after the Terra-led first crypto winter. Ardana tweeted recently that with the recent developments concerning funding and the uncertainty surrounding the project's timeline, it has to stop the development of the project.
Hello Ardana community,

Unfortunately due to recent developments with regards to funding and project timeline uncertainty, the Ardana project has had to come to a halt. Our code will remain open source for builders to continue our work going forward as they wish.

— Ardana – DeFi Hub of Cardano (@ArdanaProject) November 24, 2022
The crowd's reaction to this news was more or less anticipated. Since investors are tired of hearing one bearish news after another, crypto Twitter responded indifferently. Some users tweeted that it is not up to the YouTubers to design the project. They threw an indirect jab at the project's developers, who created a bullish narrative around Cardano through crypto YouTubers.
As a result of that announcement, DANA, the official crypto of Ardana, has dropped by 25.66% in the last 24 hours.
Cardano Price Prediction – What Does the Future Say
Despite the current developments, Cardano remains one of the best altcoins in the market due to its bullish use case and great community. While it has failed to deliver on many of its promises, experts agree that the long-term development prospects of Cardano still stand.
That said, reaching $0.50 is difficult, given the current state of things. The Fibonacci retracement chart shows that Cardano has to break through $0.4524 (0.236 fibs) to test $0.50, which, given the sporadic trades, might not be possible within this year. However, if Cardano does show signs of delivering the promises it made in 2020 and 2021, the ADA price can move up.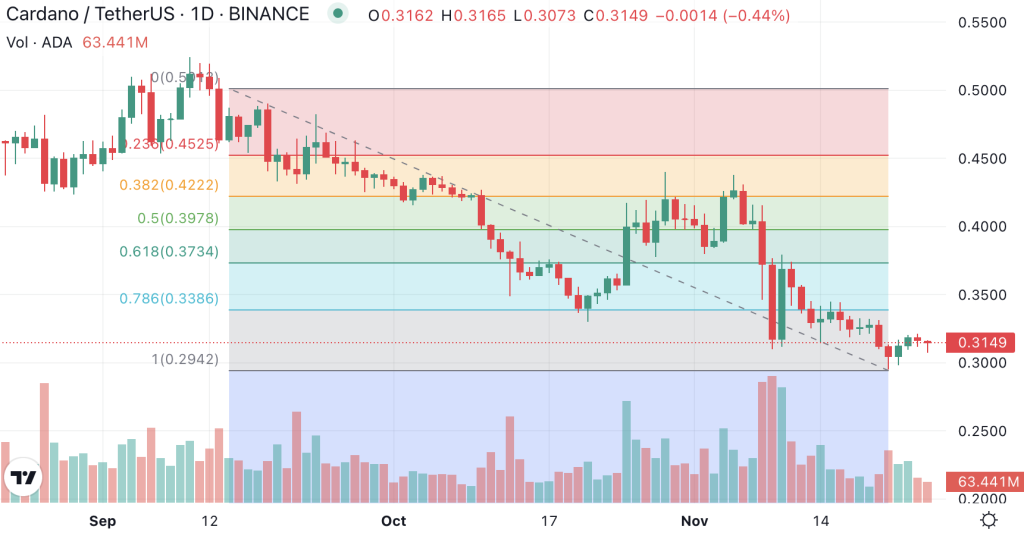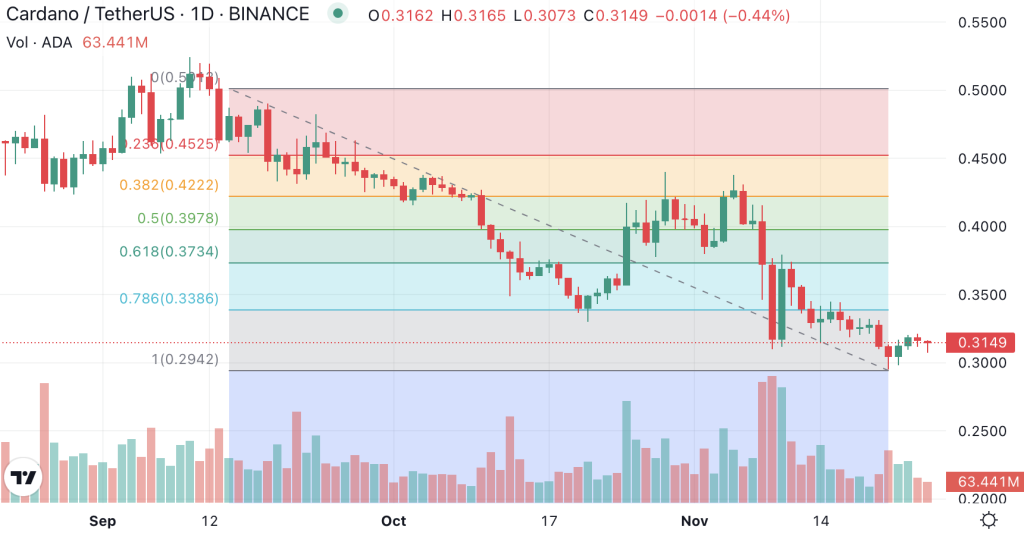 The Current Bear Market Still Has Early Mover Opportunities
Even though the market is bearish, there are many early-moving opportunities. Many utility-based crypto ICOs and presales have arrived this year and succeeded. New crypto offerings, such as Dash 2 Trade, aim to create a truly profitable crypto economy by providing worthy intel to ordinary traders.
Dubbed "Bloomberg Terminal of Crypto", Dash 2 Trade is a crypto intel platform offering tools to invest responsibly in a volatile market. The features include social trading, off-chain analysis, social analytics, listing alerts, and Bespoke Presale testing, to name a few. This combination makes Dash 2 Trade the very project that can save investors from facing FTX-like situations in the near future.
The native crypto of the platform, D2T, is currently on presale and is being sold at $0.0513. The presale has raised upwards of $7 million at the time of writing. Over 80% of tokens during the third presale stage are sold out, and 4th stage presale stage can begin at any moment. Visit the official website to start investing in this asset.
Other presale offerings include TARO, IMPT, and RIA. TARO is a metaverse crypto that has recently passed its $200k milestone. IMPT, the greenest cryptocurrency project of this year, has raised upwards of $13.2 million, and Calvaria, a novel P2E project, is inching closer to its $2 million presale target. Check out these presale cryptocurrencies to become an early mover even in these bearish market conditions.
Related Articles
Dash 2 Trade Price Prediction
Calvaria Price Prediction
New Cryptos to Buy on November 25
Dash 2 Trade – High Potential Presale
Active Presale Live Now – dash2trade.com
Native Token of Crypto Signals Ecosystem
KYC Verified & Audited