Is it risky to gamble with crypto at an online casino?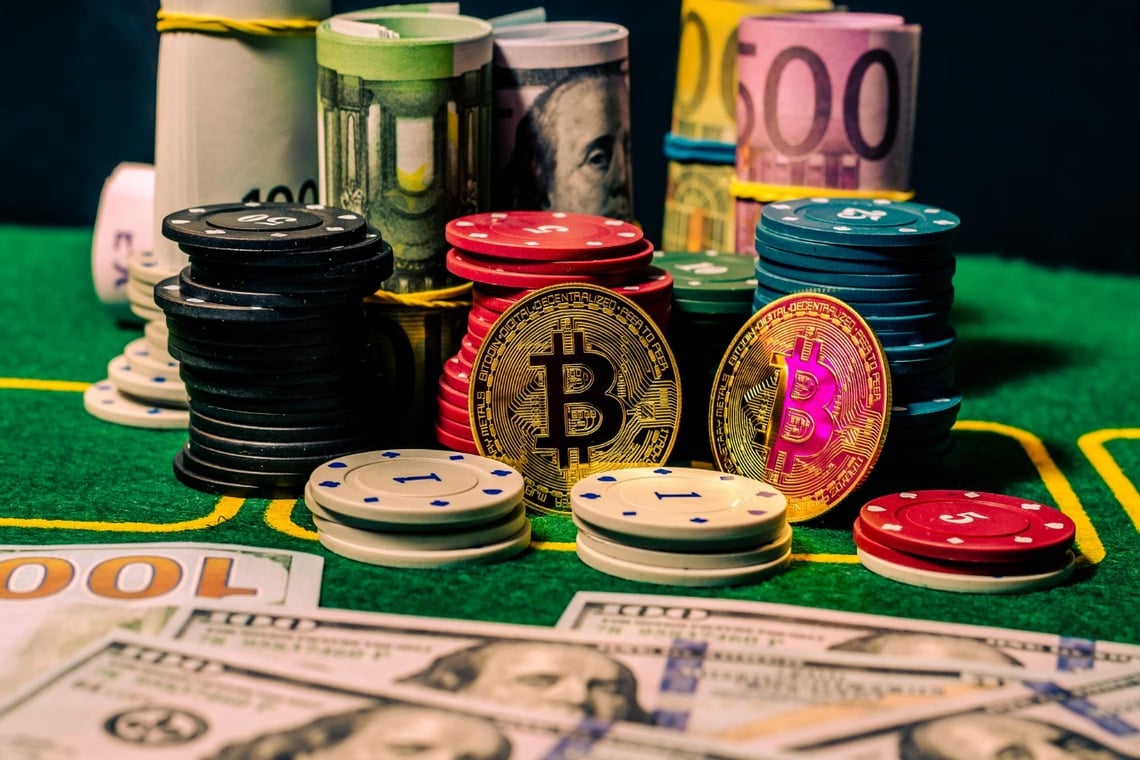 If youre an online gambler and crypto enthusiast, youre probably already aware that there are numerous crypto casinos around that are happy to offer their customers the option of depositing and gambling using cryptocurrencies. When it comes to crypto gambling, much like any other kind of online gambling, there are plenty of good, safe options, as well as some scammers, so its important to look closely at the providers youre considering.
Should I consider crypto casinos?
If you are already investing in cryptocurrency, there are good reasons why you might be attracted to crypto casinos. You are already aware of the inherent risks involved with cryptocurrency, and know that as a largely deregulated system, there are various pros and cons to investing in digital currencies. It can, however, be convenient to use your crypto wallet as a quick and simple form of online payment, and in fact, the built-in security with cryptocurrency means that your transactions are in many ways more secure than those of someone making a fiat currency deposit at an online casino.
Are crypto casinos regulated?
As the crypto space itself is not subject to the same regulation as the rest of the financial sector, its fair to assume that crypto casinos may not be well-regulated either, but thats not necessarily the case. There are plenty of mainstream, regulated online casinos that now accept crypto payments, so these can be a good choice if you want to stay as safe as possible with your online gambling.
It is true that some crypto casinos will be unregulated, or perhaps not regulated by the well-known governing bodies that online gamblers expect to be overseeing their online casinos, such as the UK Gambling Commission. Crypto casinos may be based offshore, anywhere from Curaao to the Isle of Man, and subject to local regulation, which can be quite lax. Then again, that is the case with many non-crypto casinos. Its up to you to decide what level of security and regulation is important to you when looking at options for online gambling.
Are crypto casinos legal?
As youll already be aware, there is plenty of room for what is legal and what is not when it comes to a deregulated market such as cryptocurrency, but just as crypto itself is not illegal in most countries, neither is crypto gambling. Cryptocurrency tends to exist in a gray area since it is neither classed as legal tender nor prohibited as illegal, and youll find that in most jurisdictions the case is similar for crypto gambling. That is, there are often no specific laws legalizing, prohibiting, or regulating crypto gambling in a specific jurisdiction, because most cryptocurrencies are neither officially endorsed nor explicitly prohibited by most governments.
Which coins can I use at crypto casinos?
While Bitcoin casinos are increasingly common, its not unusual to find a casino that accepts a range of the more popular cryptocurrencies, and even some of the more obscure altcoins. Its certainly not unusual to find casinos that accept Ethereum, Litecoin, Ripple, Binance, Dogecoin, and more. Remember that while some casinos specialize in crypto gambling, there are plenty of mainstream casinos that accept regular deposit methods such as credit and debit cards, alongside crypto deposits.
When researching casinos, check out all the payment methods available, and look at how fast deposits and payouts are processed, along with other things such as what the minimum deposit is, whether there are deposit and withdrawal fees, and if there are any restrictions in the way that you can gamble if you deposit with crypto funds. Check, for example, that you will still have access to any bonuses offered, as well as the whole range of games and gambling options at the casino.
How to choose a crypto casino
When choosing a crypto casino, you will want to look at all the things you would consider with any casino. Do you like the platform? Does it offer a good choice of games? Is there good customer service? What sort of bonuses are on offer? Are there low fees, and preferably no fees on things such as deposits and withdrawals? Remember to check that there are not extra terms and conditions when you deposit with crypto, especially when it comes to claiming bonuses, withdrawal restrictions or withdrawal fees.
Whats the difference between a crypto casino and a mainstream casino?
Generally, if a casino is advertising itself as a crypto casino, you will find that you can both make deposits with crypto and place wagers with it. Many mainstream casinos simply accept crypto coins as a deposit method. You will not actually be placing wagers with your crypto funds. That is, crypto is accepted as a payment method, but then gets converted to fiat currency, or to credits used throughout the casino. These casinos operate under traditional online casino guidelines, and are really just regular casinos that allow crypto to be used as a deposit method.
In a true crypto casino, you will be depositing and playing with cryptocurrency funds. Your wagers and winnings will be calculated in crypto, with no automatic conversions to fiat currency or casino credits. These casinos are less common, but there are plenty of them around if you take the time to look for them. Just be aware that a straight crypto casino is less likely to be licensed and regulated by one of the main governing bodies, so these casinos can be riskier. There are also crypto casinos that use specific gambling tokens that may not be commonly traded on the exchanges, but that are well-known as options in the crypto gambling space.
Ultimately, if you decide to use your crypto funds for gambling, you will need to do your research and check that the casino you choose is a reputable one that offers all the features you need. With crypto gambling, as with any other form of gambling, do not deposit or wager more than you can afford to lose. Online casinos can be fun, but there are no guarantees. Always gamble responsibly.
!function(f,b,e,v,n,t,s)
{if(f.fbq)return;n=f.fbq=function(){n.callMethod?
n.callMethod.apply(n,arguments):n.queue.push(arguments)};
if(!f._fbq)f._fbq=n;n.push=n;n.loaded=!0;n.version='2.0′;
n.queue=[];t=b.createElement(e);t.async=!0;
t.src=v;s=b.getElementsByTagName(e)[0];
s.parentNode.insertBefore(t,s)}(window, document,'script',
'https://connect.facebook.net/en_US/fbevents.js');
fbq('init', "2395903780706876");
fbq('init', '410702699585449');
fbq('track', 'PageView');
(function(d, s, id) {
var js, fjs = d.getElementsByTagName(s)[0];
if (d.getElementById(id)) return;
js = d.createElement(s); js.id = id;
js.src="https://connect.facebook.net/en_EN/sdk.js#xfbml=1&version=v3.0&appId=2059238210984591&autoLogAppEvents=1″;
fjs.parentNode.insertBefore(js, fjs);
}(document, 'script', 'facebook-jssdk'));