IoT Connectivity Industry Forecast by 2030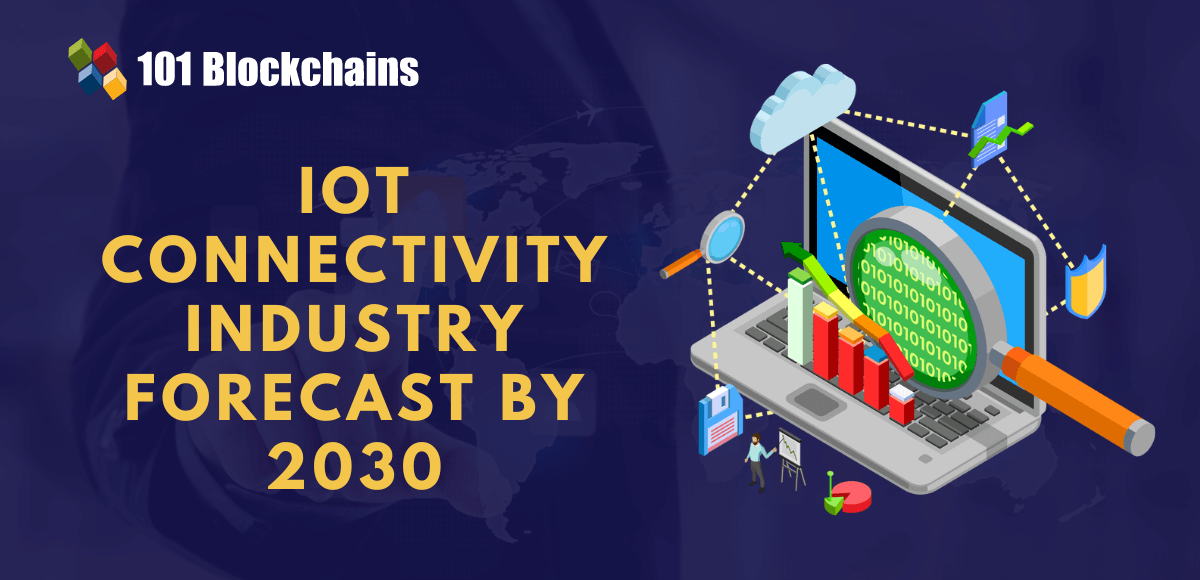 IoT, or Internet of Things, has offered a new definition of connectivity. Manufacturers could create custom user experiences through the ecosystems of connected devices. The global IoT market was worth $213 billion in 2021, and IoT connectivity industry forecast suggests that it will reach $621 billion by 2030. The consistently growing interest in the IoT market has created a demand for information about trends in IoT connectivity industry. You can look up industry trends and forecasts to understand how the IoT market will evolve in the future.
The expected number of IoT devices by 2030 might reach over 29 billion IoT devices across different industrial and consumer applications. Similar forecasts about the IoT market provide a glimpse of what the IoT market could achieve in future. The following post helps you uncover some of the important statistics about the growth of IoT market. In addition, you can also learn about the prominent trends which would define the future of IoT.
Want to understand the fundamentals of the Internet of Things (IoT)? Become a member and Enroll Now in IoT Fundamentals Course!
Important IoT Predictions
The review of an IoT-connected devices forecast would showcase multiple highlights about the future of IoT. The forecasts for the IoT market offer insights into possible directions for the future of IoT industry and applications. As a result, businesses or developers working on IoT projects can adapt effectively to emerging challenges and opportunities. Here are some of the notable IoT growth statistics predicted for 2030.
Please include attribution to 101blockchains.com with this graphic.   

Consumer IoT Market Growth
The worldwide consumer IoT market could become worth $555.92 billion by 2030 with a CAGR of 12.7%. Such forecasts point to the possibility of increased use of smart technologies along with IoT devices, including smart home devices, smart wearables and fitness trackers.
The predictions regarding the number of IoT-connected devices suggest a sharp increase in the number of devices in 2022. The statistics about IoT-connected devices in 2022 indicate that there are 16.4 IoT-connected devices worldwide. In 2023, the number could increase to 19.8 billion. The long-term predictions for the IoT-connected devices market suggest that the world will have over 30 billion IoT-connected devices by 2025.
Another significant highlight in IoT forecasts would point to the economic value expected from IoT connectivity. Internet of Things could unlock massive economic value ranging between $5.5 trillion and $12.6 trillion by 2030. The estimates of economic value generated by IoT would also include the value generated by consumer IoT market.
Want to familiarize yourself with the technology stack associated with IoT? Become a member and Enroll Now in Internet Of Things (IoT) – Intermediate LevelCourse!
Prominent Use Cases of IoT
The estimates for the number of IoT devices by 2030 also connect with the forecasts for concentration of economic value generated through IoT. Which sectors are more likely to deploy the most number of IoT devices? You can rephrase the question to focus on the economic value generated by IoT for different sectors.
The applications of IoT connectivity in standardized production environments would account for maximum share of the economic value of IoT. Forecasts suggest that IoT applications in manufacturing will contribute around 26% to the economic potential of IoT by 2030.
Which Sectors Will Use IoT the Most?
The list of IoT growth statistics also showcases the prominent applications which will dominate the IoT market in the future. As of now, Smart City projects account for around 23% of all enterprise IoT projects. The other big player in enterprise use cases of IoT refers to Connected Industry, with around 17% of the market.
It is also important to look for the notable sectors which are likely to lead IoT adoption in the future. Internet of Things has found extensive use cases in agriculture and healthcare. As of 2022, the market for IoT in healthcare is worth $158 billion. On top of it, IoT connectivity industry forecast points to possibilities of better IoT adoption in retail markets. By 2025, IoT applications in retail markets could serve as the foundations of a market worth $35.5 billion.
Devices for Consumer IoT Use Cases
IoT industry forecasts also draw limelight on potential use cases of IoT, especially in the consumer segment. Consumer IoT devices are likely to focus on internet and media devices such as smartphones. As a matter of fact, smartphones will account for growth in the number of IoT-connected devices to 17 billion by 2030. Some of the other notable use cases which would have more than 1 billion IoT devices include IT infrastructure, smart grids, autonomous vehicles and asset tracking and monitoring.
Start learning Blockchain IoT with Worlds first IoT (Internet Of Things) Skill Path with quality resources tailored by industry experts Now!
Future of IoT in Manufacturing
IoT has the capability to bridge the gap between physical and virtual worlds with vital plausible implications for economy and society. Manufacturing industry could leverage IoT to improve efficiency of operations and physical asset management. Most important of all, IoT could offer a core element for ensuring effective digital transformation. The IoT-connected devices forecast suggests that IoT use cases in standardized production environments could contribute almost $1.4 trillion to $3.3 trillion by 2030.
The value creation potential of IoT in manufacturing would prioritize optimization of different operations for better efficiency. As a result, operation-management applications of IoT could make up for almost 32% to 39% of economic value generated through IoT. By 2030, IoT applications for optimizing operation management could help in generating between $0.5 trillion and $1.3 trillion in economic value.
Prospects for IoT in Healthcare
The next big candidate for dominating the future of IoT would point to healthcare. As a matter of fact, healthcare accounts for the second-biggest share in the economic value generated by IoT. The IoT growth statistics for healthcare sector imply that IoT healthcare use cases would account for 14% of total economic value of IoT. Continuously growing adoption of IoT solutions in healthcare, such as connected heart monitors and glucose meters, has provided better opportunities for expansion of IoT use cases in healthcare.
Can Autonomous Vehicles Accelerate the IoT Industry?
Autonomous vehicles qualify as one of the top value-generating sectors among IoT use cases. The answers to What are the predictions for the future of IoT? would obviously refer to how sensors drive efficiency in autonomous vehicles. Consumers want more reliability and safety with autonomous vehicles. Therefore, the safety features in autonomous vehicle manufacturing would also boost the economic value added by IoT. Predictions suggest that IoT use cases for safety and security in autonomous vehicles could generate an economic value of almost $130 billion to $140 billion by 2030.
Curious to know how the IoT business mechanisms work? Become a member and Enroll Now in the Internet Of Things Business Impact Course!
How Will the Future IoT Industry Look Like?
The rapid growth in the IoT industry, with a gradual rise in the number of IoT devices by 2030, is a favorable indicator for the industry. However, it is also important to learn about the implications of IoT in the future. Will the industry rely on growth in the number of connected IoT devices alone? The following trends could provide an effective answer for understanding the prospects for future of IoT.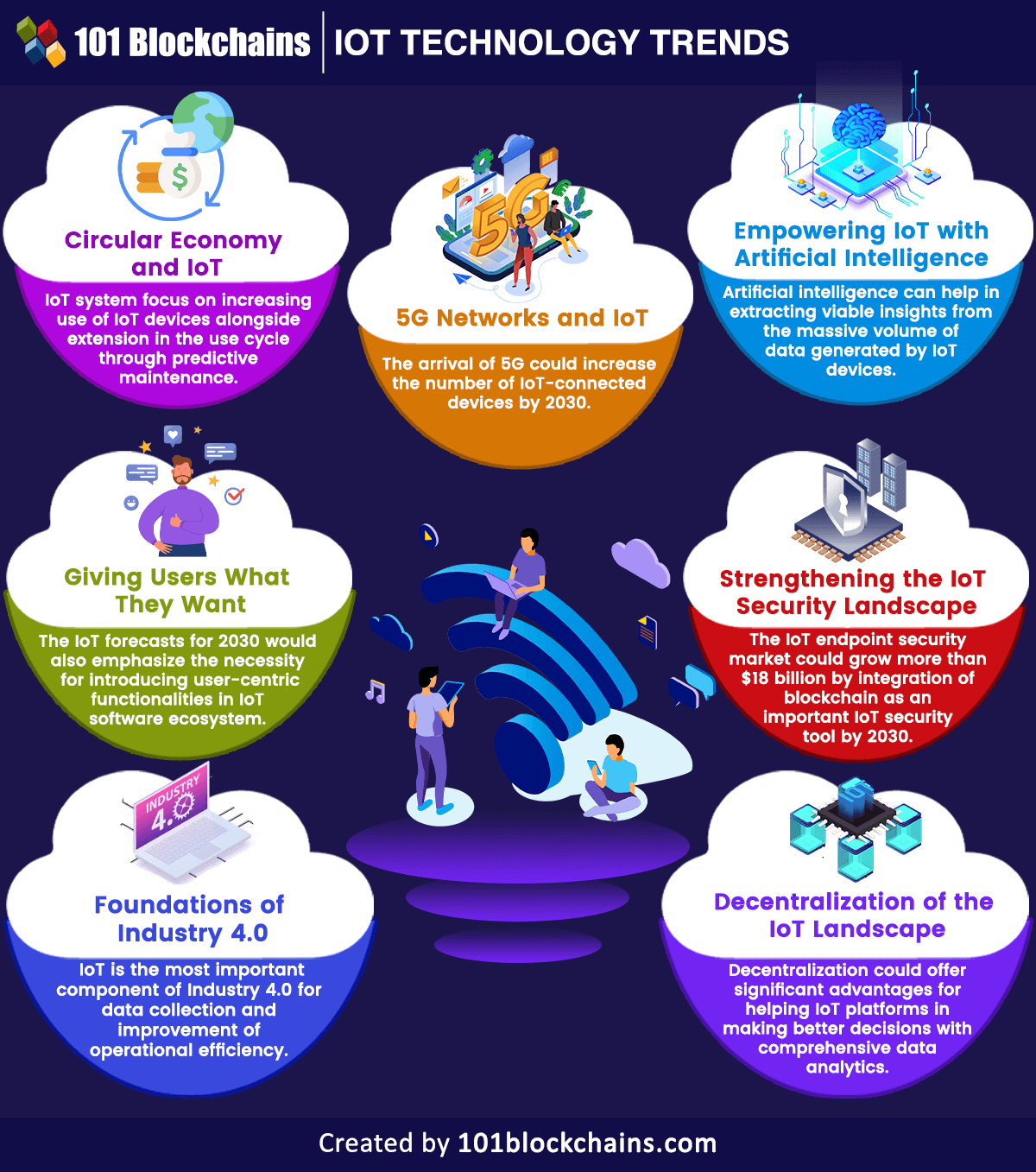 Please include attribution to 101blockchains.com with this graphic.   

IoT companies have opened up avenues for minimizing waste and improving personal autonomy alongside energy efficiency. However, IoT projects can be sustainable only if it has access to rich sources of data. The responsiveness of IoT networks and their actions would depend on the networks effectiveness in data connectivity. The recommended actions for achieving a responsive and high-performance IoT system focus on increasing use of IoT devices alongside extension in the use cycle through predictive maintenance.
The IoT connectivity industry forecast regarding IoT and circular economy would draw attention to example of Michelin. The popular tire manufacturer added sensors to tires to obtain a better impression of how the tires wear out over the course of time. Customers can use the data to identify when they need to replace the tires, thereby avoiding any unwanted costs of repair. In addition, sensor data could help Michelin in improving the quality of tires through manufacturing efficiency.
The highlights of predictions for future of IoT would also include the plans for adoption of 5G networks. 5G broadband cellular networks could offer support for higher data transfer rates with considerably minimal latency. The arrival of 5G could increase the number of IoT-connected devices by 2030 as it can power real-time network performance requirements for IoT applications. At the same time, low-latency benefits of 5G networks can improve connectivity and performance of IoT networks.
Empowering IoT with Artificial Intelligence
The next prominent expectation in the future of IoT would point to possibilities for a combination of AI and IoT. According to Gartner, artificial intelligence is one of the prominent strategic technology trends and has significant implications for transforming IoT. Artificial intelligence and IoT complement each other and help in accessing highly valuable insights.
The responses to What are the predictions for the future of IoT? would outline how the growing number of IoT devices can encourage the adoption of AI with IoT. Artificial intelligence can help in extracting viable insights from the massive volume of data generated by IoT devices. Estimates suggest that IoT devices will create around 73.1 ZB of data by 2025. Gartner had predicted that more than 80% of IoT projects would be combined with artificial intelligence by the end of 2022.
Want to learn how you can use blockchain in the Internet of Things (IoT)? Become a member and get free access to the Getting Started with Blockchain And IoT Course Now!
Giving Users What They Want
The IoT forecasts for 2030 would also emphasize the necessity for introducing user-centric functionalities in IoT platforms. Spending on IoT solutions would continue growing as businesses plan on spending around $1.1 trillion on IoT initiatives in 2023. However, the major share of IoT spending would go towards IoT software development.
The number of companies dealing with IoT devices would need effective methods for managing the software associated with different devices. Therefore, developers could look up to containerized applications as a solution for the future of IoT software ecosystem. Containers could help IoT companies introduce beneficial functionalities for improving user experiences.
Foundations of Industry 4.0
The domain of technology is in the most dynamic phase right now, with many innovative developments ranging from blockchain to machine learning. Internet of Things can serve as one of the prominent entries among revolutionary technologies which can transform manufacturing and industrial applications.
The IoT-connected devices forecast estimates point out how IoT would become a mandatory requirement for data collection and improvement of operational efficiency. Industries believe that IoT is the most important component of Industry 4.0, alongside big data analytics, cloud infrastructure and AI.
Strengthening the IoT Security Landscape
The adoption of IoT would increase the amount of user data at risk of unprecedented vulnerabilities. According to Palo Alto Networks, around 57% of IoT devices are vulnerable to malicious attacks. In addition, the findings of Palo Alto Networks also suggest that 83% of medical IoT devices use unsupported operating systems.
The IoT endpoint security market could grow more than $18 billion by 2024 and would increase further with the growth of IoT. In addition, the growth in the number of IoT devices by 2030 also calls for integration of blockchain as an important IoT security tool. Blockchain could offer the benefits of cryptographic security for IoT data alongside identity management for IoT networks.
Decentralization of the IoT Landscape
The discussions about What are the predictions for the future of IoT? would also point to the decentralization of IoT. Decentralization of IoT through blockchain technology not only improves security but also reduces the burden of computing on the IoT network. Decentralization could offer significant advantages for helping IoT platforms in making better decisions with comprehensive data analytics.
Build your identity as a certified blockchain expert with 101 Blockchains Blockchain Certifications designed to provide enhanced career prospects.
Conclusion
The review of important predictions and IoT growth statistics paints a favorable picture of the future of IoT. Internet of Things provides the opportunity for extracting maximum potential of every technology use case. Starting from effective monitoring of farms to supply chain management, IoT use cases are busy creating the future right now.
At the same time, exponential growth in the number of IoT-connected devices has also pointed out the unstoppable run of IoT market. The future of IoT includes highlights of economic value contributed by IoT in different sectors alongside improvements in operational efficiency. You should learn more about IoT and its impact on business model innovation for the future. Explore the other value advantages of IoT for transforming the future of technology.

This article was originally reported on 101 Blockchains.