Huobi Token Price Soars Should You Buy HT?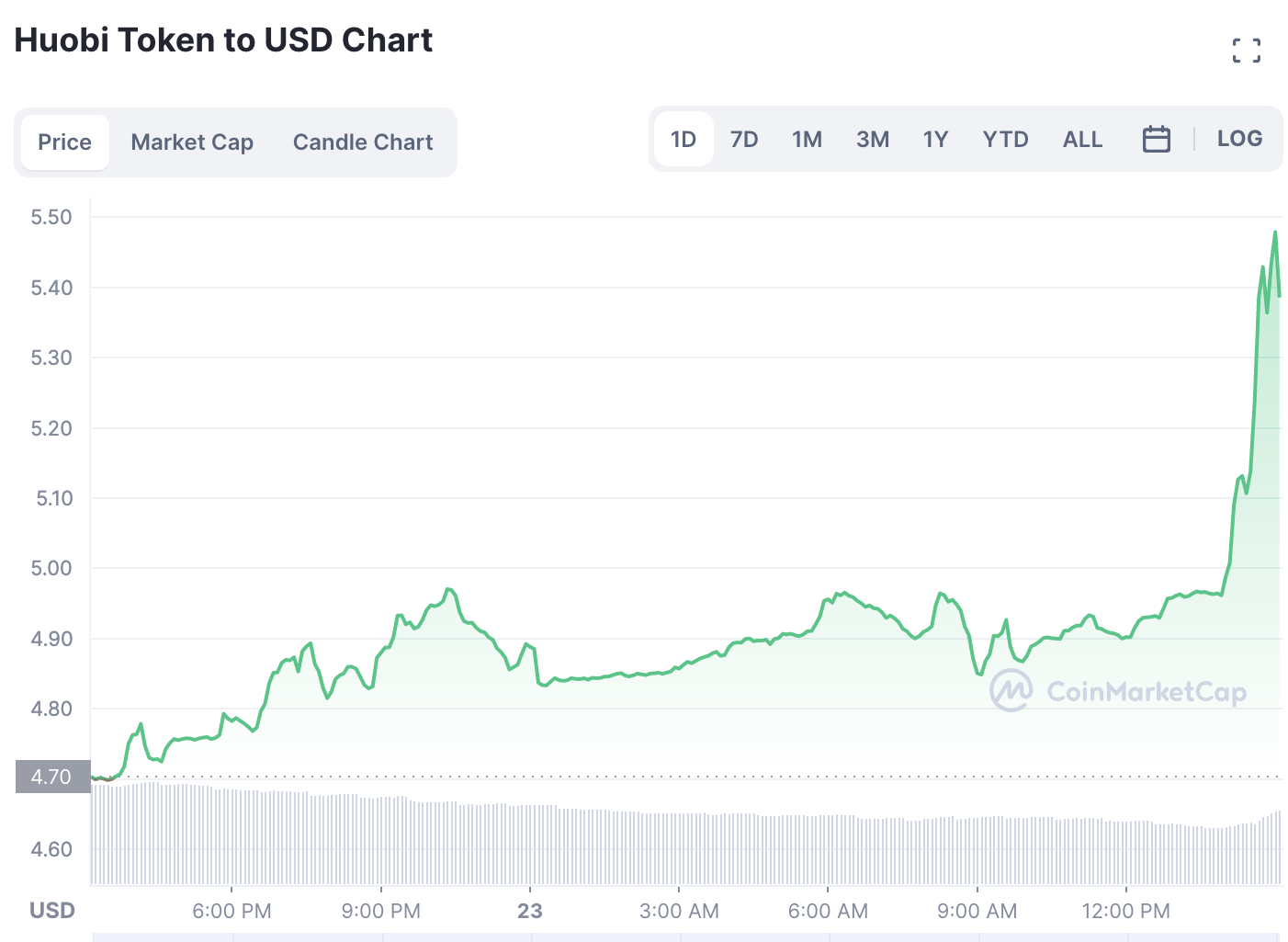 Among the greatest gainers on November 22 was Huobi Global's native cryptocurrency, the Huobi token (HT), whose price increased by more than 3% as of this writing.
HT started the day trading at approximately $4.21 but has now risen to $4.90.
At the time of writing, HT has seen a resurgence, trading at roughly $4.90 with a 24-hour trading volume of $15 million, while some of the largest cryptocurrencies were trading in the negative due to the continued confusion and aftermath from the collapse of the FTX crypto exchange.
Acquisition Sparked Price
After an almost 65% surge last month, HT reached a four-month high of approximately $7.48. The acquisition of Huobi Global by About Capital Management prompted the subsequent surge.
Huobi issued a statement confirming the takeover, saying that while About Capital would become the company's majority stakeholder; the deal would merely result in a change in the company's controlling shareholder and would not affect the company's management or day-to-day operations.
A few days later, it was reported that Tron blockchain DAO system creator Justin Sun will be joining the company as an adviser.
After the news broke, Sun gave an interview to Bloomberg, where he not only stated his intention to assist Huobi increase its fame within the cryptocurrency industry but also claimed to be one of the largest holders of HT tokens, owning tens of millions of the exchange's native tokens.
Safety First For Customers
Huobi Global produced an asset transparency report on November 13 to reassure its users that their money are secure in the wake of FTX's demise and the general dread and panic that has gripped the cryptocurrency business.
Huobi has disclosed a cryptocurrency reserve of about 32,000 Bitcoin (BTC) and 274,000 Ethereum, worth a total of $3.5 billion.
To further increase openness and confidence in the crypto industry, the business has also urged cryptocurrency exchanges to follow similar measures.
Huobi has stated that it would maintain its policy of disclosing the contents of its wallets in order to demonstrate its dedication to and enthusiasm for fostering openness.
Have You Heard Of This Presale Token Making Waves?
Currently, the value of Huobi Token is rising and shows no signs of stopping soon. Technical indications provide credence to the bulls' case, and they plan to exploit it to their advantage in the near future.
One more cryptocurrency, Dash 2 Trade, is now taking part in a presale, and it's making news for all the right reasons: it's shaping up to be the most popular presale of the year.
At this point in the D2T presale, which is stage 3, you just cannot afford to miss out on buying some of this coin. At the time of writing, one Dash 2 Trade currency can be purchased for 0.0533 USDT.
Once D2T is published and placed into circulation, those who have invested in it now will see massive benefits. As the platform's native token, Dash 2 Trade (D2T) offers a wide range of potential applications. Coins will be used by subscribers to get entry to the site and its many features.
The platform has extensive community support, as seen by the over 70,000 businesses that have signed on in its favor. Dash 2 Trade is cryptocurrency analysis software that gives traders and would-be traders extensive data about the digital currency in question. 
The site's recommendations for trading techniques might be useful for users with less expertise in the bitcoin market. In addition to charts and crypto signals, Dash 2 Trade will soon add support for chart patterns, on-chain data, DEX and CEX listing, and trading pairs.
Related Articles
Dash 2 Trade – High Potential Presale
Active Presale Live Now – dash2trade.com
Native Token of Crypto Signals Ecosystem
KYC Verified & Audited