How to Send and Receive NFTs on MetaMask?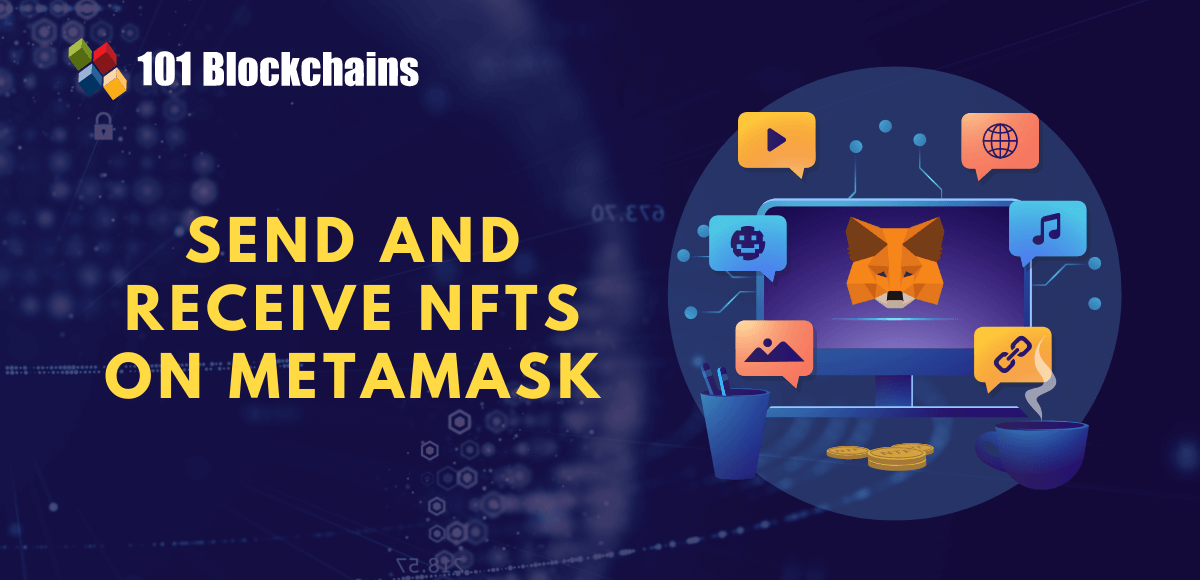 Did you recently come across the term Metamask NFT and want to know more about it? If yes, youve reached the right place. Dive in to get answers to your questions about Metamask and Metamask NFT connection.
If theres one word that has made highlights in 2021, it would obviously be NFTs. They are all over the news and discussions forums, especially in the crypto community. The new breed of digital assets is changing the definitions of asset ownership and management. Non-fungible tokens bring the value of uniqueness to the table above everything else, and this is probably the formidable highlight separating them from other digital tokens.
As the popularity of NFTs continues to grow, it is reasonable to wonder about methods for interacting with them. This is where you would come across the Metamask NFT connection. Now, what is Metamask? How is it related to NFTs? There is no reason to be confused as Metamask is basically a crypto wallet that helps you manage your NFTs. Let us shed some light on the ways for using Metamask to send or receive NFTs in the following discussion.
Want to know more about NFTs? EnrollNow: NFT Fundamentals Course
What are NFTs?
The foremost thing you need before reflecting on the process of Metamask NFT transfer is an understanding of NFTs and Metamask. NFTs or non-fungible tokens are a new class of digital assets that have gained considerable popularity in recent times. A non-fungible token is available as a representation of an asset on a blockchain, which is basically a collection of transactions stored in a distributed computer network.
With the help of the blockchain as a public ledger, anyone could easily verify the ownership and authenticity of NFTs. The most crucial highlight about NFTs is that it is impossible to reproduce them, and every NFT features unique digital signatures. The popularity of NFTs surged in early 2021, with NFT sales reaching around $10.7 billion in the years third quarter.
The uniqueness of NFTs is the most important thing for which people look for solutions to How do I receive an NFT? and the best practices for the same. As unique assets, NFTs fetch higher value, with artwork bidders ready to pay even millions for NFT ownership. Furthermore, users could also have different types of files in the form of NFTs, which also include music, photos, and other types of assets.
As a matter of fact, the buzz around NFTs has been largely attributed to the increasing emphasis on digital artwork. Deep-pocket bidders have shown interest in collecting NFT artworks, thereby fuelling the industrys growth. However, it is also important to note that majority of NFTs are based on the Ethereum blockchain. So, you need to understand the Metamask NFT connection for transferring and receiving NFTs with Metamask.
Enroll Now: Certified Enterprise Blockchain Professional (CEBP)
What is Metamask?
The next important thing you need to learn how to sell NFT on Metamask is a clear understanding of Metamask. It is basically a cryptocurrencywallet that helps users in storing and interacting with different Ethereum-based assets. Users could store Ether and ERC-20 tokens in the wallet. The most interesting aspect about Metamask is the easy installation process. You could easily install the Metamask wallet as a web browser extension or as a mobile application on your smartphone.
The Metamask crypto wallet helps users in transferring crypto to Ethereum addresses. If you want to know the answer to Can I buy NFT with Metamask?, then you must create a Metamask wallet after the installation process. You can easily create an account on the Metamask application or browser extension for creating your wallet and seed phrase. Ensure that you note the seed phrase as it is important for accessing your account.
Now that you are aware of the basics of Metamask and NFT, you must be eager to find out the ways for sending and receiving NFTs through Metamask. Let us find out the processes followed for transferring non-fungible tokens by using Metamask.
How to Use Metamask for Sending and Receiving NFTs?
One of the foremost doubts that comes to the minds of people while thinking about NFTs and Metamask is Can I store NFT on Metamask. You should note that you could add NFTs in the form of custom tokens on the Metamask browser extension. As of now, Metamask is working on enabling better NFT support on the Metamask browser extension.
However, you can find an assuring answer for Can I store NFT on Metamask with Metamask Mobile. You can easily discover your NFTs in the Collectibles tab of the Metamask Mobile app. The application can help you find a list of the NFTs you own alongside insights on pricing of NFTs and market trends.
With a major concern out of the way, you could now think of finding out more about the Metamask NFT transfer and receiving processes. Before you start the process of sending or receiving NFTs, you should follow an important prerequisite. You need to understand that majority of NFTs are basically ERC-721 tokens.
Therefore, sending NFTs through Metamask is more or less the same as sending an ERC-20 standard crypto token. The ERC standards help in the implementation of Application Programming Interfaces or APIs for concerned assets. As a result, users could enjoy the benefit of interoperability in transferring tokens among ERC accounts alongside improved accessibility for tokens. Now, let us take a look at how you transfer NFTs with Metamask.
Also Check:What is Staking Crypto?
Steps for Sending NFTs through Metamask
Before you start transferring NFTs through Metamask, it is important to make sure that you are sending NFTs through your mobile application. This will help you avoid losing your valuable NFT assets.
The first step in

how to sell NFT on Metamask

or transfer its ownership to another user is to verify that you have adequate gas for the transaction. If you dont have an adequate amount of gas for the transfer process, you will end up with a rolled-back transaction and lost gas.

In the second step of sending NFTs or

how to sell NFT on Metamask,

you need to click on the NFT tab in the Metamask application. Then, the application would direct you towards the collection of the NFTs in your ownership.

Browse through all the NFTs and choose the icon of the NFT you want to transfer or sell. Click on the icon of the NFT you have selected for transfer.

Once you have clicked on the NFT of your choice, you can find a new page. You can find a Send button at the bottom of the new screen. Click on the button to express your agreement for sending the NFT to another users account.

After clicking on Send in the

Metamask NFT transfer

process, you can move to the final stage. In the final step, you need to enter the address to which you want to transfer the selected NFT. Click on Next after you have entered the address to which you wish to send the NFT. Then, all you have to do is comply with the standard transaction prompts for completing the transfer.
Learn non-stop with 101 Blockchainsfree blockchain resourcesand take your blockchain expertise to the next level.
Steps for Receiving NFTs through Metamask
The next important concern of NFT beginners would also point towards How do I receive an NFT? after understanding the process for sending NFTs. Many people are worried about concerns such as Can I buy NFT with Metamask? and the ways for receiving NFTs. However, it is important to note that the NFTs you purchase is automatically transferred to your wallet through a marketplace. On the other hand, you may come across situations in which you may not have received NFTs in your wallet. In such cases, you need to follow some important steps for checking the validity of the transaction.
Start by providing your public address to the sender. The correct public address is an important step for avoiding the accidental loss of your token. You could easily access your address by clicking on your account name in the wallet extension.

In the next step of answers to

How do I receive an NFT? you should verify that you have the adequate amount of gas for the transaction. With the right amount of gas, you could ensure a smooth and seamless transaction.
Now, you have to ask the sender to send the NFT to the public address you have provided. After they have sent the NFT, you can move to the final step of receiving the NFT.
The final step in the answer for How do I receive an NFT?

would involve the addition of the token to your wallet. All you have to do is ensure that the transactions for sending and receiving NFTs are executed on your smartphone. You can easily check the NFTs you have received recently on Metamask in the Collectible tab of the application.
Enroll Now: Ethereum Development Fundamentals
Final Words
On a final note, it is quite clear that Metamask is the simplest choice for interacting with NFTs. The processes of sending and receiving NFTs through Metamask are quite straightforward and easy to understand. Most important of all, the common point in the Metamask NFT connection emerges in the form of Ethereum. As a reliable crypto wallet for Ethereum-based crypto tokens, Metamask serves as an ideal platform for transferring and receiving NFTs.
If you look closely, NFTs are basically ERC-721 tokens, which are related closely to the common crypto tokens. Therefore, Metamask makes sending and receiving NFTs as easy as carrying out simple crypto transfers. Learn more about Metamask and NFTs in detail right now to tap into the potential of an emerging technological intervention.
---
*Disclaimer: The article should not be taken as, and is not intended to provide any investment advice. Claims made in this article do not constitute investment advice and should not be taken as such. 101 Blockchains shall not be responsible for any loss sustained by any person who relies on this article. Do your own research!