Helium Founders, T-Mobile Launch Crypto-Powered 5G Mobile Service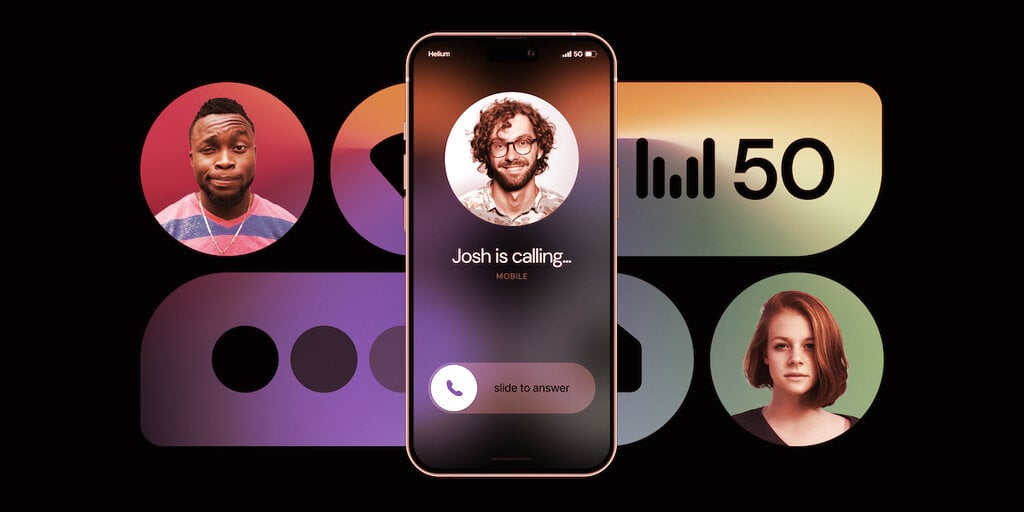 In brief
Nova Labs and T-Mobile have partnered to launch Helium Mobile, a 5G wireless service for smartphones.
It will use Heliums decentralized, crypto-powered 5G network as well as T-Mobiles network, and switch between the two as needed.
Crypto-fueled wireless network Helium will soon be able to introduce its mobile 5G vision to many more users. Today, Helium network founder Nova Labs announced that it has partnered with T-Mobile to create a new 5G wireless service called Helium Mobile.
Helium Mobile will be a mobile virtual network operator (MVNO) service and will tap both the T-Mobile and Helium networks for customers in the United States. Set to launch in the first quarter of 2023, the service will rely both on T-Mobiles nationwide 5G network and Helium's user-operated 5G nodes.
T-Mobile and Nova Labs have signed a five-year agreement to power the service.
By combining networks and switching between the two as needed, Nova Labs says the service will offer two significant economic differentiators from traditional services: plans will start at just $5 per month, and users can also optionally earn crypto token rewards for sharing data.
Boris Renski, co-founder and CEO of Nova Labs-owned firmware and hardware maker FreedomFi, said that using Heliums decentralized 5G networkwhich includes more than 4,500 active user-operated nodes at presentmeans that Nova doesnt have to invest in capital expenditures to build out infrastructure.
That allows us to build a cellular network with absolutely disruptive economics, he told Decrypt.
On top of that, Helium Mobile will allow users to opt into receiving the networks MOBILE token rewards in exchange for providing anonymized data about their network usage. Renski said that the service will treat such users as contributors, as the data will be used to monitor network quality and availability as it scalesbut its purely optional.
Helium is a network of decentralized wireless hotspots that incentivizes users with crypto tokens for running a node and supporting the network. The initial Helium network, focused on powering Internet of Things (IoT) devices like sensors and trackers, has more than 950,000 node operators at present.
The 5G network is newer and has far fewer users so far, as the 5G hardware is also currently much more expensive than the nodes that support the original IoT network. In June, the Helium Foundation revealed plans to spin off the original HNT reward token and create a new token for each network, with an eye toward supporting additional wireless protocols in the future.
How it works
Heliums own 5G network will be the preferred network for Helium Mobile when coverage is available, Renski said. Its a relatively small network at present, but its growing: Heliums second network has taken shape since launching MOBILE token rewards, with over 1,700 new user nodes activated in the last 30 daysand Renski said the pace is increasing.
Initially, voice calls will take place entirely on T-Mobiles network, while data transfers will use service provided by node operators in the decentralized network where available. Otherwise, it automatically falls back to T-Mobiles network. As Heliums network expands, more of the load will be moved off of T-Mobiles infrastructure.
Theres still work to be done in the months ahead to make the automated process of switching more seamless, Renski told Decrypt. Initially, users may encounter small delays as their smartphone switches between one network and the other, but Nova Labs and T-Mobile will continue collaborating to lessen and potentially eliminate such gaps in time.
I would say that we have traveled maybe halfway on this journey at this point, said Renski of refining the technical infrastructure. But we still have some way to go to make sure that all the users have a smooth user experience.
Additionally, Nova Labs is working with smartphone makers to design phones that are specially designed to accommodate seamless switching. Users will be able to bring their own phone, as well, but a press release suggests that the Helium-certified phones will be more efficient at validating network coverage and thus can earn more MOBILE token rewards.
The Helium Mobile news comes following the launch of a proposal to move the network from its own custom blockchain to Solana, a rising blockchain platform for apps, DeFi, and NFTs. The token-based vote is slated to conclude on September 22, with users overwhelmingly voting in favor of the proposal as of this writing.
Stay on top of crypto news, get daily updates in your inbox.