DOT/USD Finds It Difficult Pick Up Upward Momentum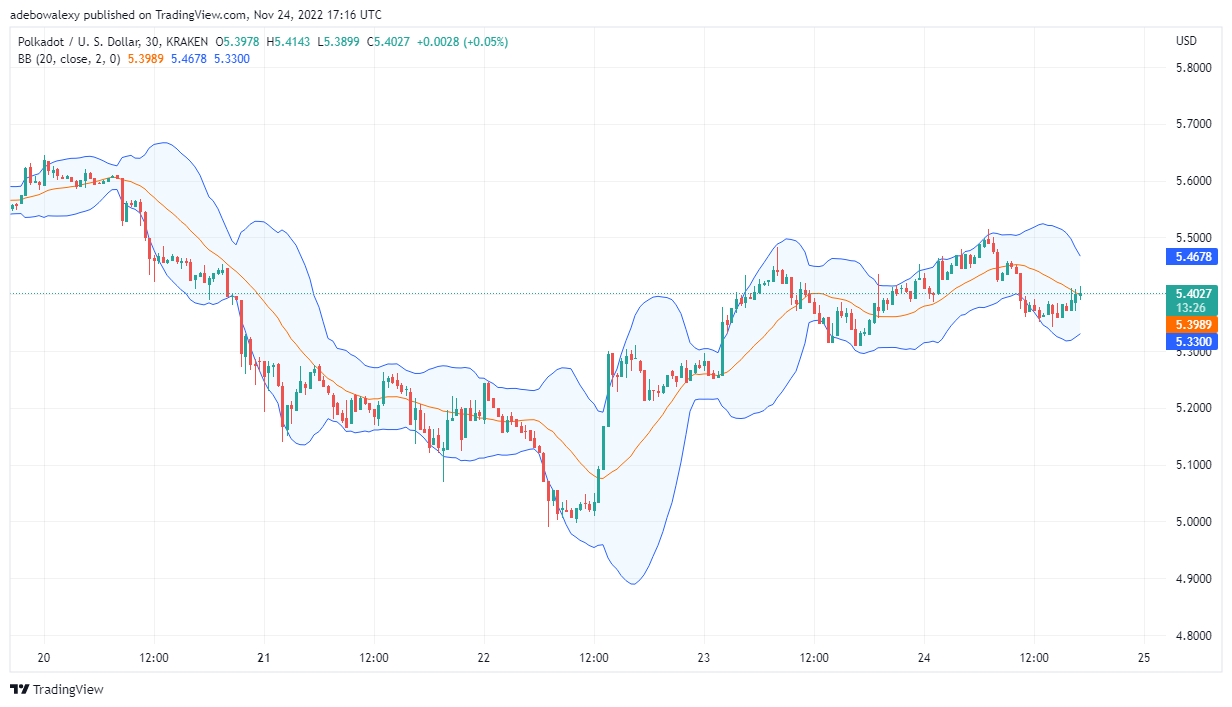 Movement of price in the Polkadot market has been generally bearish,  shortly after price action tested above the $6.00 mark. Recently, this market has been picking up bits of profits, and technical indicators to are showing some interesting signs. So let us check it out, shall we?
Polkadot Forecast Statistics Data:
Polkadot's current price: is $5.84
DOT market cap: $6.025 billion
DOT circulating supply: 1.86 billion
Polkadot total supply: 2.20 billion
Polkadot Coinmarketcap ranking: #11
Important Price Levels:
Top: $6.00, $6.30, $6.60
Botom: $5.84, $5.50, $5.20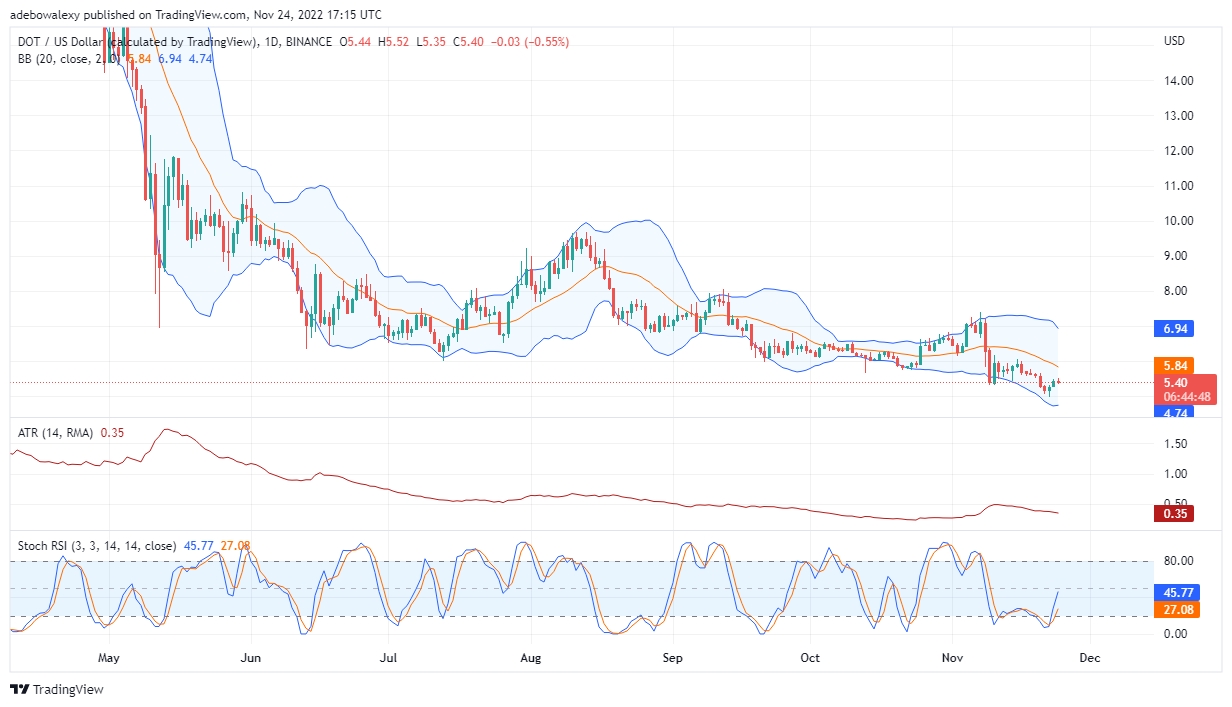 Polkadot Price Prediction Today, November 25, 2022: DOT/USD May Loose Gathered Minimal Gains
In the DOT/USD daily market, we can see that the Polkadot price recorded some profits during the last two trading seasons. But at this point selling is the most dominant activity in the market, which is why we have a bearish candlestick as the latest price candle. Also, the Average True Range indicator is pointing almost sideways. And, this portrays the lack of significant strength. However, the Stochastic RSI maintains its upward direction, and this is largely due to the recent gains in this market. Consequently, we can predict that price may just move towards the $5.80 or $6.00 price mark.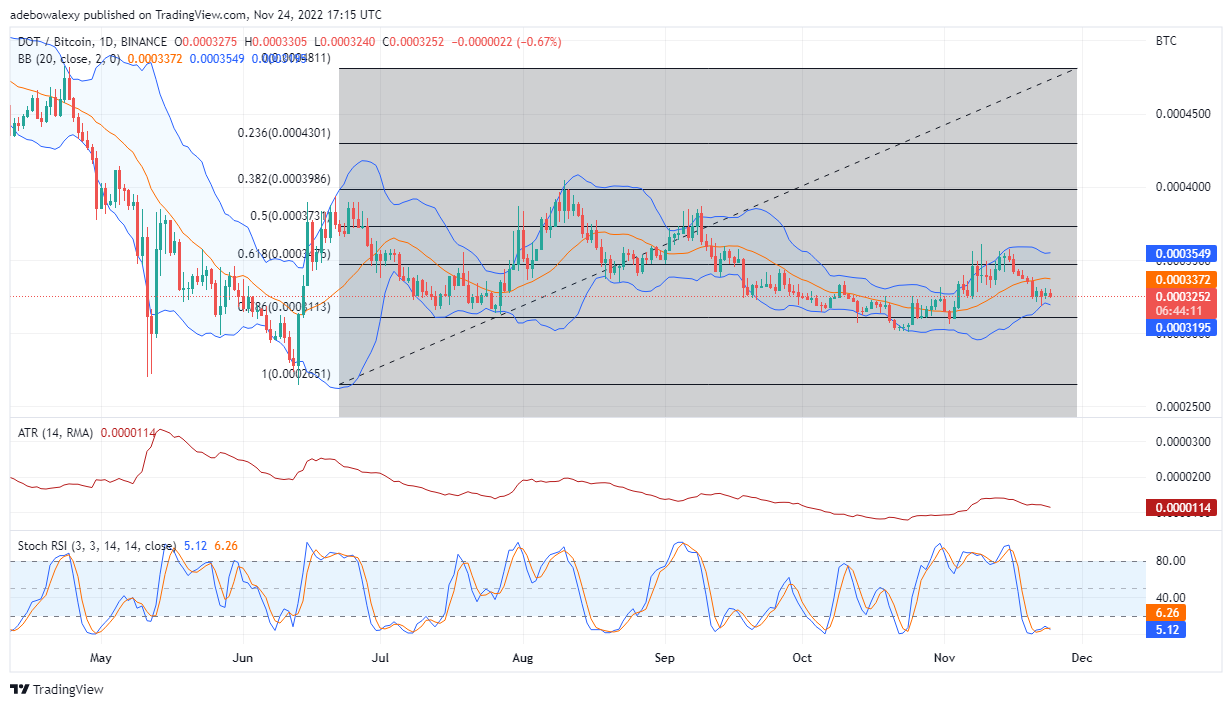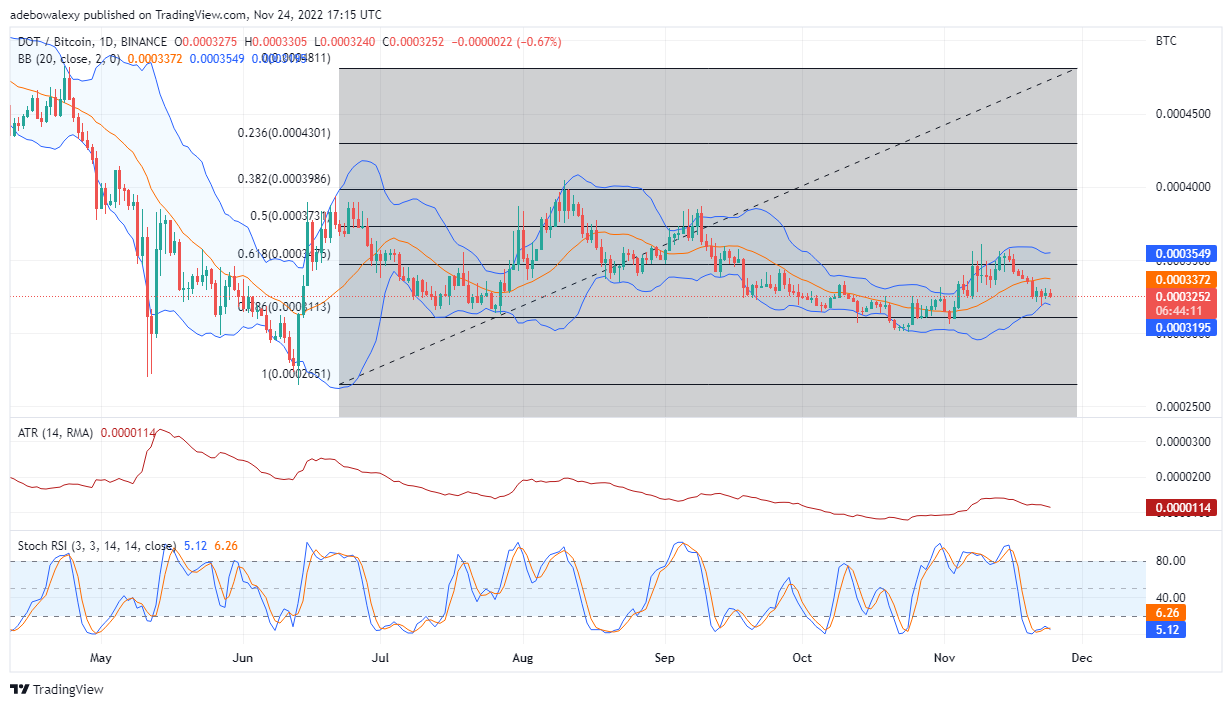 Polkadot Price Prediction Today, November 25, 2022: DOT/USD Look Unready to Break Upwards
Price activities in the DOT/BTC look a bit depressed and not ready to move towards resistance. This can be seen as the ongoing session remains in favor of downward forces. Also, by closely examining the ATR, we can perceive that its terminal is somehow curved towards the downside. Consequently, this reveals the current prevalent forces in this market. Additionally, the RSI looks rather mangled in the oversold region. Also portrays that downward forces are very much active here. Traders here can anticipate the price falling towards 0.0003113.
Generally speaking, the market performance of DOT/USD hasn't been too encouraging. Price action in this market has been mostly bearish. However, Impact Token is another crypto with a promising outlook. The IMPT  token is currently on pre-sale and has raised approximately $13 million via its presale program so far. Another interesting development surrounding this token is that its team has just announced a giveaway of promo $100K worth of IMPT. This a golden opportunity no one will want to miss.
Also, a novel platform called  D2T (Dash 2 Trade)  would have warned people about FTX before its shocking crash. This innovation is analytics, metrics signals, automatic trading, and analysis tool. Additionally, its presale program has raised approximately $7 million.
Related
Dash 2 Trade – High Potential Presale
Active Presale Live Now – dash2trade.com
Native Token of Crypto Signals Ecosystem
KYC Verified & Audited