Dogecoin Price Forecast: $0.10 Reached; Is $1 Possible with Elon Musk Buying Twitter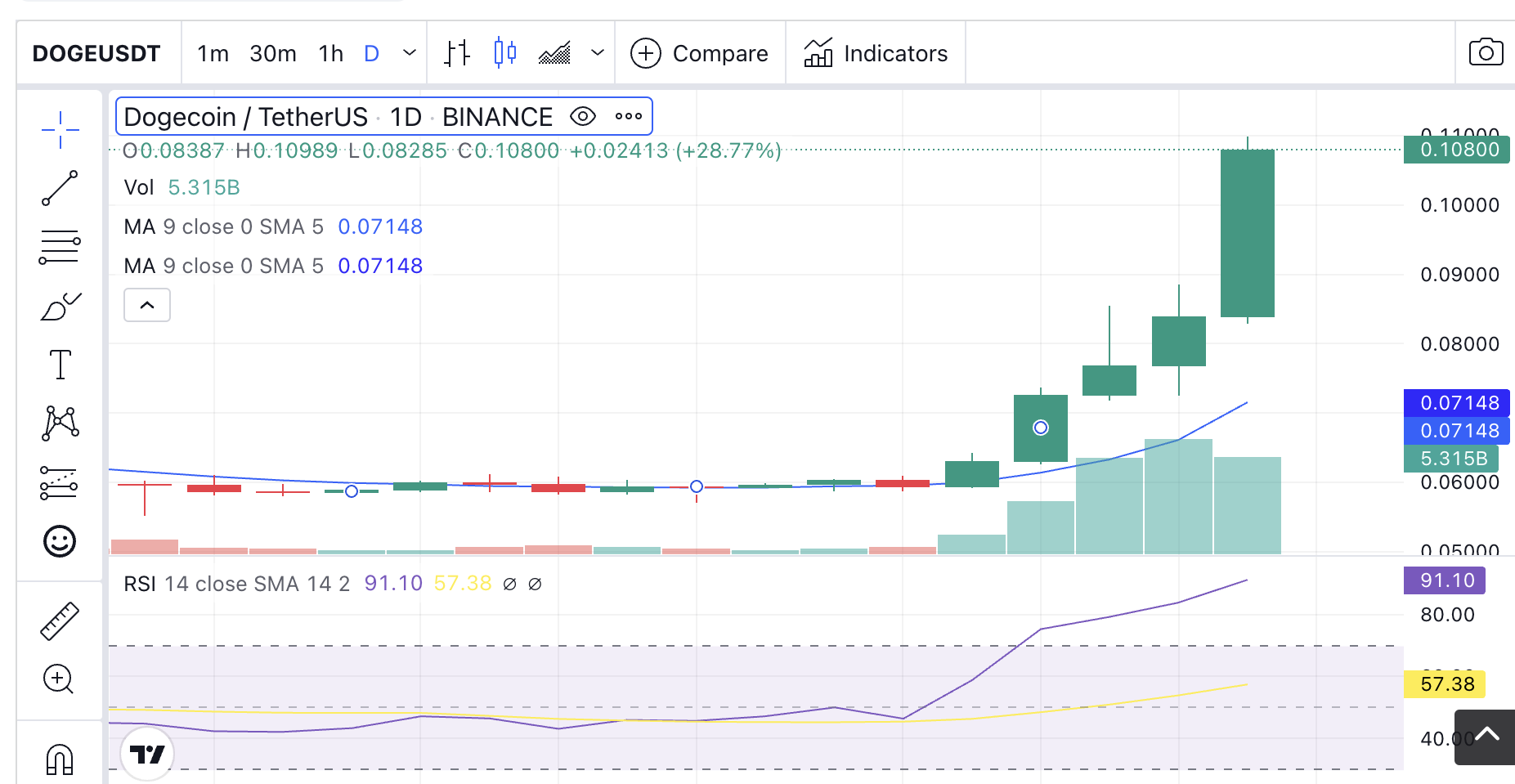 Dogecoin has experienced immense growth over the past week. The world's leading memecoin has parabolically grown after accumulating around $0.059 and has now peaked above $0.10. For a brief period, it ticked above $0.11. While the current valuation is far from its all-time high of $0.65, Elon Musk's acquisition of Twitter has started to give people hope. 
Is $1 possible for Dogecoin now that Elon Musk now owns Twitter? Check out this Dogecoin price forecast for the answer.
Elon Musk Now Owns Twitter
The Twitter ecosystem, especially the crypto space, had a cause to celebrate yesterday after the much-awaited acquisition of Twitter by Elon Musk. A deal more than six months in the making, Twitter's past ownership has been filled with contention, a ban on user accounts, and bots that have sullied its name. 
And when Elon Musk finally finalized the deal the next day and walked inside Twitter headquarters with a kitchen sink, the crowd waited for a moment to "let that sink in" that the Tesla owner is now controlling Twitter. 
"It is the return of free speech on the platform," – many have said. At the same time, others are saying that it would finally give voice to those who were banned in the past.
But the crowd that was in the most celebratory mood was crypto Twitter. Forever hailing Elon Musk as the champion of Dogecoin, these traders rallied behind the memecoin, punching it up by 20% in the past 20 hours and getting it closer to the coveted $1 mark. But is it possible?
Dogecoin Painting One Green Candle After Another  
The anticipation in the crypto space about Elon Musk buying Dogecoin has been there for the past few days. Even though to many, it was only yesterday that it was revealed that Elon had bought Twitter, the crypto space, like it always does, anticipated and got overly bullish about this crypto asset from the very beginning. 
As a result, the Dogecoin price action has been painted green candles for the past three days. Will it persist? Experts don't believe it. Dogecoin has a history of growing immensely, followed by a mega retrace. And the increasing bullish patterns Dogecoin is making, we might see the end of this run soon. 
However, Dogecoin is one of the most speculative assets in the crypto space. So, it might pull off a "LUNC": a Luna Classic price action that ignored all the market fundamentals and grew to its ATH (all-time high) levels a few months back. 
Dogecoin is trading way above its moving average, and the RSI is way above the oversold zone, making it certain that a major price drop might be coming soon. 
However, Elon Musk has yet to mention Dogecoin in his tweets recently. Perhaps his good word will prove us wrong and push Dogecoin closer to its all-time highs. 
It is time to Look into Better Crypto with Better Fundamentals
Dogecoin has been a lucrative crypto investment in the past. But it is still speculative, and every mega bull run has been followed by an equally powerful slump – making DOGE only suitable for short-term investors. Presale cryptos are the way to go for the rest of the crypto crowd eyeing long-term gains. 
Dash 2 Trade is one of the best presale cryptocurrencies in the market. It comes with a full use case involving an inclusive crypto analytics platform that the entire trading space can rally behind. 
And right now, Dash 2 Trade is being sold at a discount price of 0.05 USDT. It is a ripe early mover advantage, and if you move in early, you will make gains even before it lands on cryptocurrency exchanges. 
Go to the official website to participate in the presale today before the second stage ends. 
Dash 2 Trade – High Potential Presale
Active Presale Live Now – dash2trade.com
Native Token of Crypto Signals Ecosystem
KYC Verified & Audited