CRV Curve DAO Token Price Soars High Time To Buy CRV?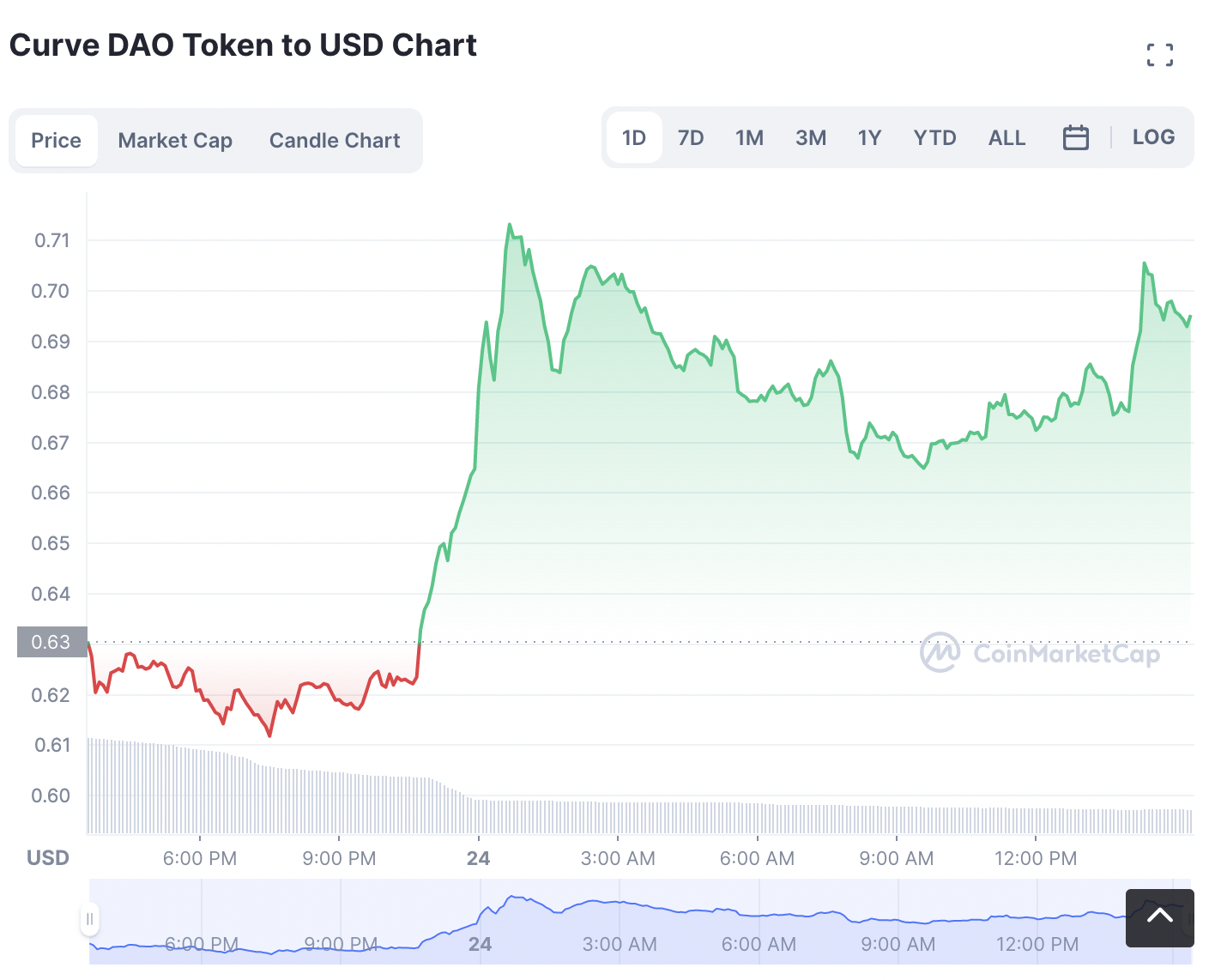 After finding stability at $0.42, buyers of Curve DAO Token (CRV) have been able to outperform sellers in recent hours, driving prices steadily higher. Prices of CRVs have increased by roughly 44% to $0.61 as of this writing.
The current market value is $328,572,819, and the 24 hour trading volume is $645,364,989. These figures are up 5.79% and 22%, respectively, from their all-time lows.
The experts agree that the rising lines on the CRV DAO Token price chart on CoinMarketCap indicate an encouraging upward trend. The green line will stay above the red line, and the red line will stay above the blue line, unless bears in the CRV market reverse the recent trend. The price action above the alligator's jaws confirms the bullish supremacy pattern and suggests that it will continue.
Whales Shorted CRV for Price to Bounce Back
Reports indicate that large crypto whales engaged in huge shorting of CRV on several platforms. Whales leveraged Open Source Liquidity Protocol and AAVE to borrow Curve DAO Tokens, and then proceeded to sell those tokens on the markets after having done so.
The whales responded to the falling price of CRV by increasing their purchases of Curve DAO Token to resell on AAVE. This procedure was carried out several times. Whenever the CRV price hit the minimum acceptable level, those whales sold their long positions on CEX.
To drive up the price of CRV, however, the whales have begun purchasing it on the exchanges. Crypto whales are going to sit back and watch as their AAVE investments get liquidated. Due to the restricted amount of on-chain liquidity, the AAVE liquidation that has been scheduled will cause a spike in the price of CRV.
CRV DAO Token Price Goes Up
According to industry expert, this is the beginning of the CRV short squeeze. Price increases signal that the AAVE liquidation is about to reach a pump.
The price of a Curve DAO Token has increased by over 6% in the past day. At this time, the average price of CRV on the market is $0.61.
According to the findings from a number of different sources, the AAVE total value locked (TVL) has experienced a decline of approximately 5% throughout the course of the previous day. Its TVL, meanwhile, has dropped by 25% in the previous month.
What Makes CRV DAO Token Unique?
Curve has become popular after reserving its efforts only to its intended function as an AMM for stablecoin trading. A rise in earnings is the consequence of activating DAO and the CRV token, which is utilized for governance and given to users in proportion to their liquidity promise and length of ownership.
The explosion of DeFi trading has allowed AMMs to produce vast volumes of liquidity and user revenues, ensuring Curve's continued existence. Therefore, Curve is geared for users who maximize profits with minimal risk by maintaining stablecoins and people who engage in DeFi actions such as yield farming and liquidity mining. The platform makes money via a nominal fee assessed to the suppliers of liquidity.
Have You Invested In This Presale Crypto Which Has Raised 6.8 Million?
The Dash 2 Trade cryptocurrency is the driving force behind a crypto data network built to address current market problems head-on. In less than two weeks, the second round of the D2T presale reached its goal of $5.16 million and was completely subscribed. 
Learn 2 Trade, an extremely popular trading signal provider, has conceptualized a platform called "Dash 2 Trade," which is scheduled to go live in the first quarter of 2023. Investors will be given access to market-driven analytics on the platform to further inform their choices.
D2T delivers buy and sell signals, social metrics, and market sentiment analysis to better the trading experience.
The creators of Dash 2 Trade have lofty ambitions to make it the Bloomberg of cryptocurrency trading platforms. The platform also has automation and backtesting tools, which may be used to optimize trading strategies and streamline trading procedures.
Dash 2 Trade's notification service informs users of all new currency listings on centralized exchanges, a piece of data that was formerly only available to the most well-connected investors. The success of Dash 2 Trade's presale campaign comes as no surprise, given the platform's promising future.
To date, nearly $6.8 million has been raised in the presale's third and final stage. Purchase it now for only $0.0513 which is a once in a life time discount before the presale ends and the price soars.
Related Articles
Where to Buy Curve?
Dash 2 Trade Price Prediction
Argentina's Fan Token ARG Crashes by 30%
Dash 2 Trade – High Potential Presale
Active Presale Live Now – dash2trade.com
Native Token of Crypto Signals Ecosystem
KYC Verified & Audited