Can LUNC break its all-time high after the recent bounce?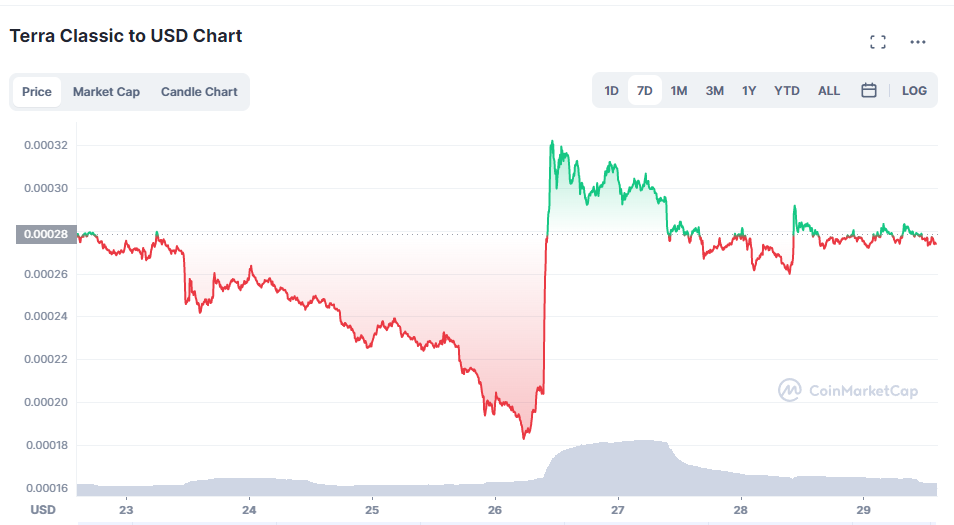 The cryptocurrency industry has fetched a lot of negative media in 2022, causing prices to plunge even further in an already existing bear market. Surely, some projects managed to withstand this and keep on building their infrastructure by taking this period as an opportunity. Dedicated communities of these projects too, played a vital role in the growth of these companies.
Despite the criticisms from a huge number of major financial institutions, cryptocurrencies managed to make a mark and position themselves as a promising and investable asset class. With higher returns than traditional investment options and better interest rates, investors also flocked to the industry, in search of projects to park their funds in.
A major chunk of the masses has been considering assets that have chances of giving high returns on their investments, while several others look for safer assets. This is because while the returns may be comparatively lower, their funds with be safer. But the events in recent months have also brought about a shift in this mentality.
Top projects, that were considered to be some of the highest potential cryptocurrencies crashed immensely, taking with them, billions of dollars within just a couple of days. This blow to investors across several projects came hard since BTC crashed after touching its all-time high of around $69,000 back in 2021.
One such huge project that was speculated to not fail, but almost had to close shop entirely was LUNC, or Terra Classic. However, in a recent couple of days, the token has started to see strength again, which has been exciting investors who have been bullish on the token.
What is LUNC?
Launched in 2018, LUNC (previously LUNA) was created as the native token for the Terra Blockchain. It was founded by Do Kwon and Daniel Shin and was soon to grow in terms of popularity among investors all over the world due to its innovative concept.
The primary use case of the LUNC token was to regularize and keep the price of UST, Terra's stablecoin in check. The price of UST was to be pegged to the US Dollar, which means that it was important for the token to be worth a certain amount at all times. However, UST wasn't using gold or the US dollar as its collateral reserve. LUNC tokens were used for the same.
Ideally, whenever UST would go up in value, exceeding the $1 mark, LUNC(previously LUNA) tokens were burned and more UST tokens were minted, thus increasing supply and decreasing demand. This process would be reversed when the value of UST goes below $1. Undoubtedly, it had grown to be the top stablecoin network, with one of the biggest cryptocurrency communities due to this innovative concept.
The product was created by both developers to drive the growth of cryptocurrency adoption while also promising stability and security of one's asset.

What went wrong for LUNC?
LUNC was one of the biggest projects in the entire industry and was one of the top 10 cryptocurrencies in the space at a point. With a price of around $116, it boasted of a market cap of more than $40 billion before it crashed by more than 99.99% in value.
Around May 17th, more than $2 billion worth of UST was unstaked from the Anchor Protocol, which caused millions of dollars to be wiped off the project. There can be multiple reasons that can be tied to the unstaking like the announcement of war or increased interest rates.
This, in turn, caused the price of UST to drop to $0.91, which was heavily taken advantage of by some investors. They traded $0.91 worth of UST for $1 worth of LUNC in large quantities, causing the value of UST to drop further and the number of LUNC being minted to grow at a quick pace.
This went on for a while before the project lost almost all of its value, and several exchanges stopped trading for the project on their platforms. LUNC and UST pairings were delisted later from these exchanges too, following the fiasco.
While the CEO Do Kwon managed to quickly come up with a plan to sustain the ecosystem by creating a second version of the token, LUNC was already trading at around $0.00013 by then, from its all-time high of around $116.
Can LUNC break its all-time high again?
Practically speaking, the chances of LUNC touching $116, or even $1 at this point may be very unlikely. This is because, the supply of the token is so high, that to reach even $1 in value, LUNC would require a market cap in trillions of dollars.
However, if speaking in terms of its all-time high post the crash, which was around $0.00057, it may be an easily achievable goal. The community of LUNC has definitely taken a hit since the crash; but still seems to be around with an overall bullish sentiment for the project.
Infact, the token recently saw a decent pump of more than 30% where it rose from around $0.00016 to more than $0.0003, due to some major announcements and developments. Binance, the biggest cryptocurrency exchange in the world announced that it would support the community by burning the trading fees collected from LUNC investors.
The project has also been updating its users on the various potential updates and advancements that can be expected within the coming months. With such growth and stability in terms of the community and support from organizations like Binance, LUNC may be set up for some considerable gains in the future as well.
Read More
Tamadoge – Play to Earn Meme Coin
Earn TAMA in Battles With Doge Pets
Capped Supply of 2 Bn, Token Burn
Presale Raised $19 Million in Under Two Months
Upcoming ICO on OKX Exchange