Biggest Crypto Gainers Today November 22 – LEO, BCH, D2T, GMX, TARO, IMPT, Tamadoge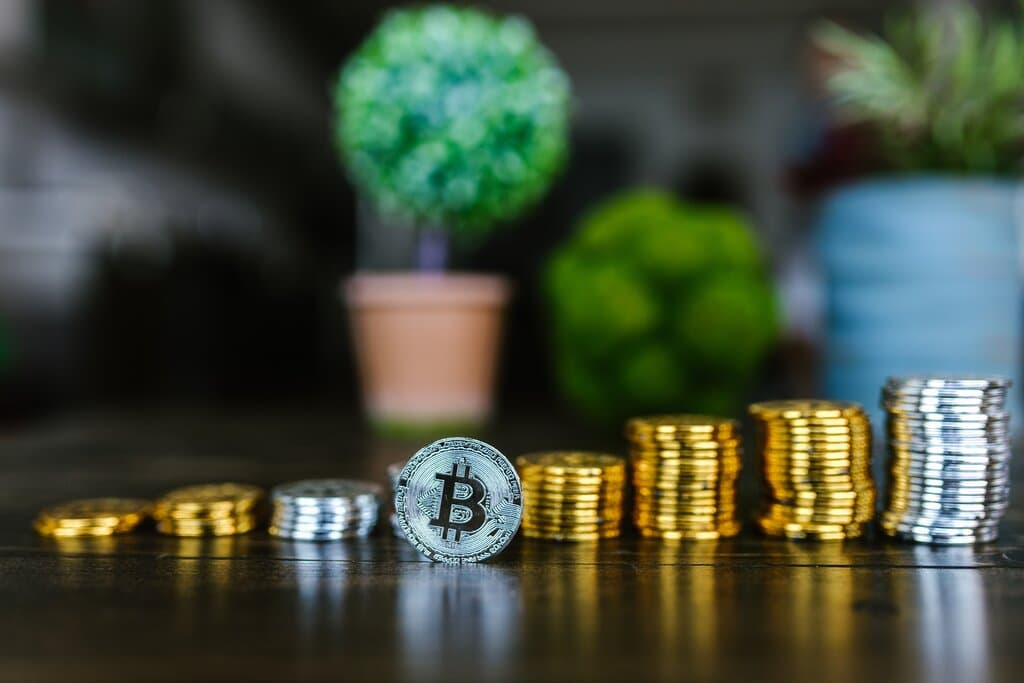 The market value of all cryptocurrencies has dropped below $800 billion due to a sharp increase in liquidations following the collapse of the FTX cryptocurrency exchange. At the time of writing, the value of the global cryptocurrency market was $794.02 billion, down 5% from the day before.
Investors should be prepared for a challenging road to price recovery as sellers now dominate the market. The market capitalization for cryptocurrencies slipped below the $800 billion level as selling pressure on crypto assets persisted.
After the FTX cryptocurrency exchange shut down, there was a big increase in people selling their coins. This caused the market capitalization of all cryptocurrencies to drop below $800 billion. While Bitcoin (BTC) was able to hold steady at around $16,000, the majority of other cryptocurrencies, including Ethereum (ETH), Dogecoin (DOGE), Litecoin (LTC), Ripple (XRP), and Solana (SOL), all ended the day in the negative.
The UNUS SED LEO (LEO), BCH, D2T, GMX, TARO, IMPT, and Tamadoge were the top gainers.
UNUS SED LEO (LEO)
The UNUS SED LEO had been performing quite well throughout the previous session, but it was unable to maintain its upward momentum and fell again by over 9% in recent hours. The utility token LEO Token (LEO) is designed for usage on the Bitfinex exchange and other trading platforms run by its parent firm, iFinex. It is believed that the token would improve Bitfinex's community and platform efficiency.
The bearish cryptocurrency market, which had a negative influence on numerous cryptocurrencies, may nevertheless be the reason for its decline. The new activities around the FTX troubles are causing significant liquidations in the cryptocurrency market. As crypto-assets continue to be under selling pressure, the market valuation for cryptocurrencies fell below the $800 billion threshold.
FTX collapse
Ethereum troubles
LBRY court loss

All highlight why Bitcoin is different.

— Sam Callahan (@samcallah) November 17, 2022
It is also worth noting that the Bitfinex exchange token known as UNUS SED LEO (LEO) coin managed to grab attention after its May 2019 launch by climbing to the top of the list of cryptocurrency tokens listed by the value of their market capitalization.
Early in June 2019, the LEO token seemed to enter the prestigious top 10 token clubs, sparking parallels to other tokens with a similar structure, such as Binance Coin (BNB), the native token of the Binance cryptocurrency exchange.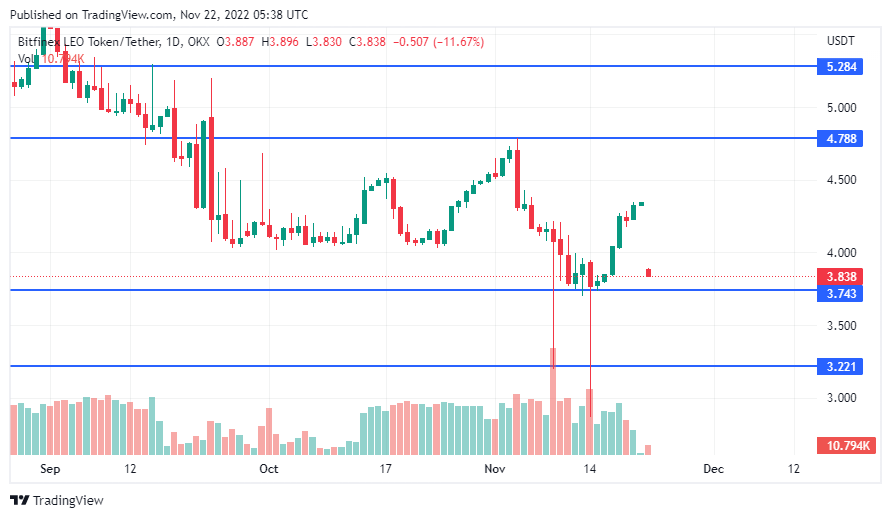 LEO Price Chart – Source: Tradingview
At that moment, the price of UNUS SED LEO is trading at $3.90, with a 24-hour trading volume of $3 million. In the last 24 hours,  LEO has dropped over 10%. LEO is now ranked #19 on the market, with a live market cap of $3,716,639,179.
The circulating supply is 953,954,130 LEO coins. The LEO/USD may gain support at $3.75 and $3.25 along with resistance at $4.75 and 5.25.
Bitcoin Cash (BCH)
Bitcoin Cash had been performing well throughout the previous session, but it was unable to maintain its gains and fell by 0.79% in recent hours. The news that the Caribbean island government of Saint Kitts and Nevis intends to accept Bitcoin Cash (BCH) as payment within its borders by March 2023 fueled its rise. As a result, the Bitcoin Cash coin cost more than $100.
The Prime Minister of St. Kitts and Nevis 🇰🇳 just announced that #BitcoinCash will become legal tender in his country by March 2023. A big step for BCH as no nation can outlaw the currencies of other nations. Mass utilization with amazing new apps is next. pic.twitter.com/WjnaZxGv50

— Kim Dotcom (@KimDotcom) November 13, 2022
Terrance Saint Kitts and Nevis Prime Minister Micheal Drew announced that his country is ready to begin mining Bitcoin Cash and convert it to legal tender by March 2023.
The effort will begin as soon as regulators assure customers of the highest level of safety, according to the leader, who added that the cryptocurrency represents "future potential." BCH soared to around $103 immediately following the speech and is still trading above $100.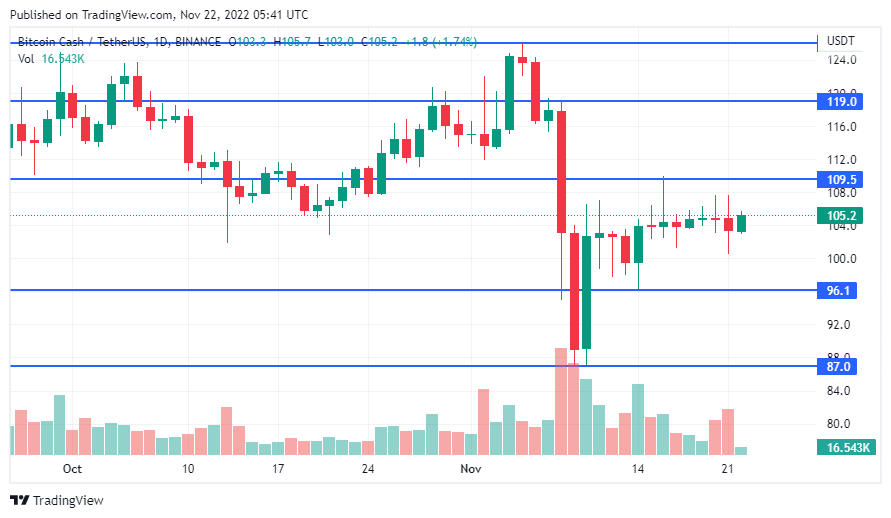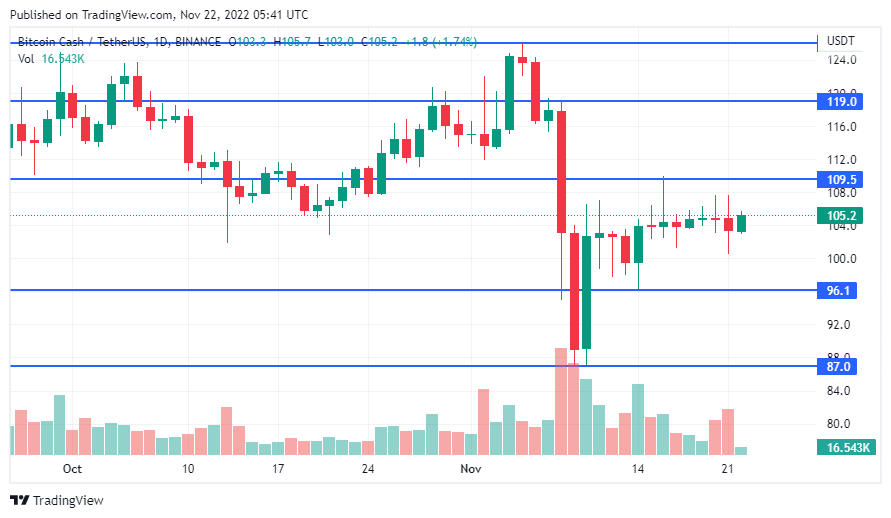 Bitcoin Cash Price Chart – Source: Tradingview
The current price of Bitcoin Cash is $102.93, with a 24-hour trading volume of $319,475,922. Bitcoin Cash has dropped by over 0.50% in the last 24 hours and is now ranked #27 on the market, with a live market capitalization of $1.9 billion.
The total supply is 21,000,000 BCH coins, with a circulating supply of 19,235,244 BCH coins. The BCH/USD could find support at $96 and $87, as well as resistance at $110 and $119 levels.
Dash 2 Trade (D2T)
Dash 2 Trade is a brilliant idea that could become the next popular cryptocurrency. It is a new cryptocurrency project with a real-world application use case that only a few other projects can match.
Dash 2 Trading uses its native D2T token to provide various trading services.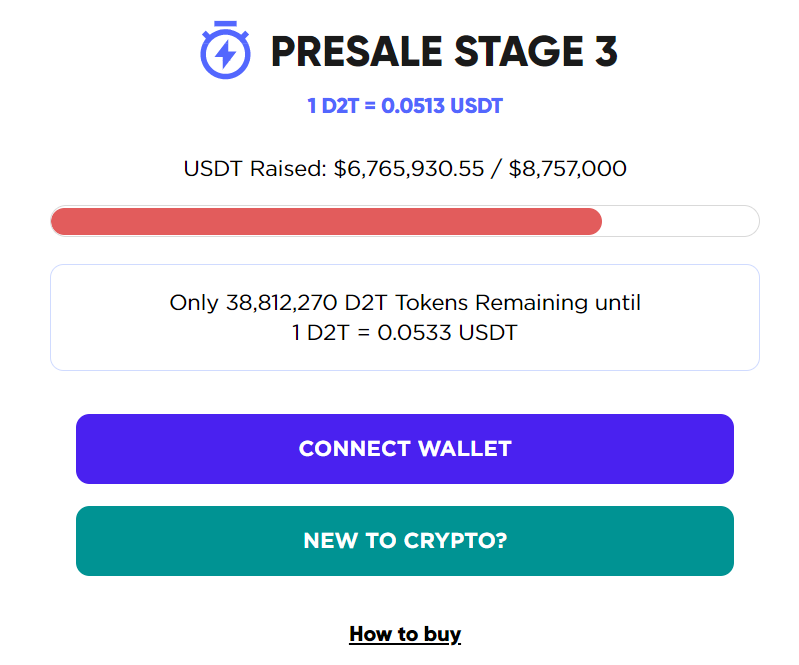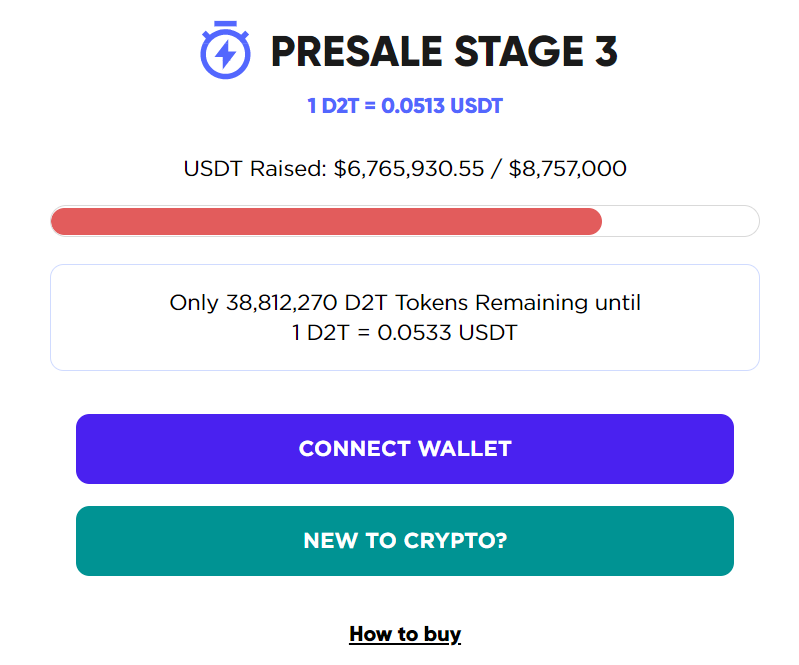 During the current presale, the price of the D2T token, based on Ethereum, will rise by 39%, from $0.0476 to $0.066. It's also worth noting that investors can get a huge discount on D2T, Dash 2 Trade's native token, during the presale period. This will provide many opportunities for investors to make large future gains.
As a result, the Dash 2 Trade platform dashboard, which assists traders in making trading decisions based on various useful bits of information, is one of the top cryptocurrency gainers. The 700 million tokens sold during the presale's nine stages are part of D2total T's token supply of one billion.
The D2T token's pre-sale is currently in Stage 3, and it can be purchased. 1 D2T is currently worth 0.0513 USDT. Token sales have brought in $6.7 million so far, with an $8.7 million target. There are currently only 44,000,000 D2T tokens available in the Presale. Hurry up and sign up so you can take part in the dynamic Dash 2 Trade ecosystem.
Visit D2T Presale
GMX (

GMX

)
The current live GMX price is $40 with a 24-hour trading volume of $20 million. GMX has dropped by more than 2% in the last 24 hours. GMX is now ranked #82 on the market, with a live market capitalization of $335 million. There are now 7,990,696 GMX coins in circulation.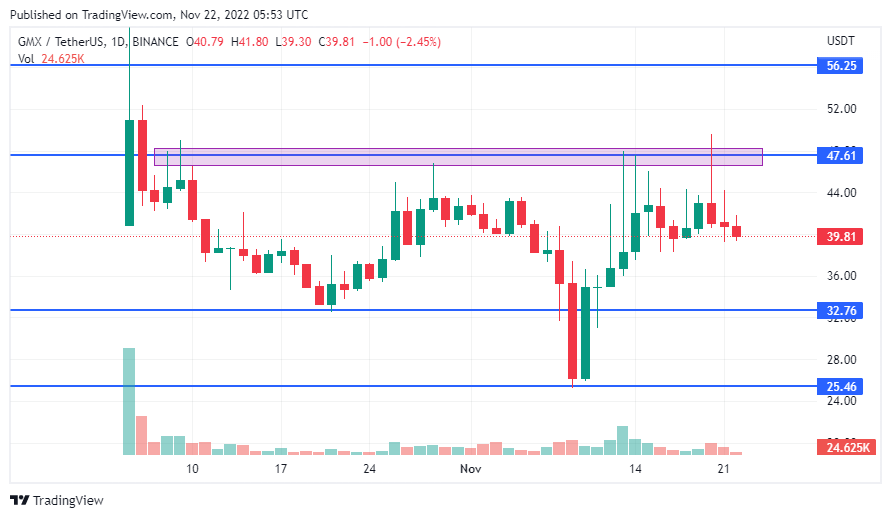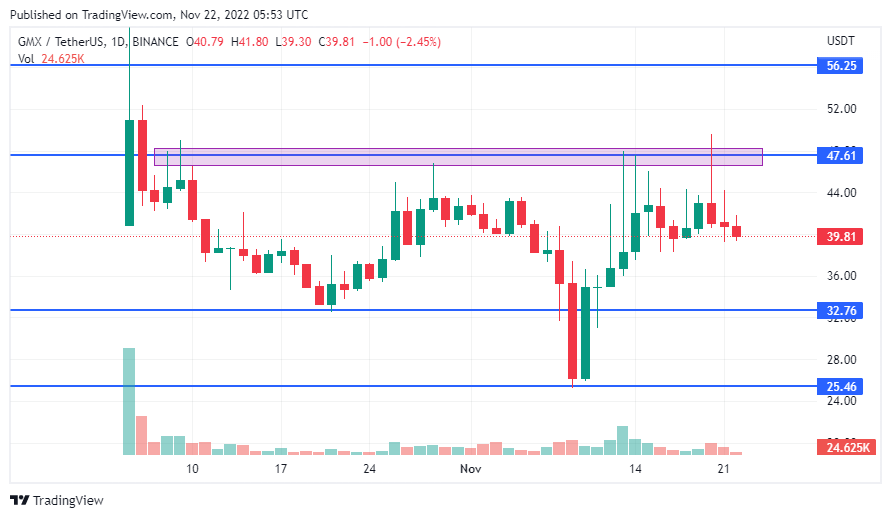 GMX Price Chart – Source: Tradingview
Since the beginning of last week, the GMX price was rising, having reached a high of $47 on November 21. GMX, on the other hand, was unable to break through the $47 barrier and fell to an intraday low of $39. If the downward trend continues, the critical support zone will be between $34 and $36.67. To reverse the trend, GMX must reclaim the $45 region.
RobotEra (TARO) 
RobotEra is a game-changing new environment that features a metaverse and virtual assets. The project's strategy includes P2E (play-to-earn) and PVP (player vs. player) games, in addition to being the best metaverse coin to invest in. Digital currency is essential to the operation of all virtual worlds because it allows users to purchase in-game items, avatar accessories, and other items.
TARO is currently the most popular metaverse cryptocurrency to purchase. In the RobotEra metaverse, this coin will be accepted as payment for goods and services.
In addition, because the project is currently in the presale phase, early buyers may be able to obtain TARO tokens for $0.020 before the price rises. The initiative's team has raised more than $5.9 million in less than a year. As the metaverse connects with alternate universes, players will have access to museums, theme parks, symphony halls, and more.
RobotEra is currently in the first stage of its presale with TARO tokens available for just $0.02. #DigifinexAirdrop

— JaylahLeach (@SawantAchut) November 16, 2022
According to the whitepaper, the project's creators are creating a world modeled after the well-known NFT metaverse game Sandbox.
Players can purchase land parcels in the form of NFTs, in other words. Users can also build items on their property. The player's character in this scenario will be a robot, which is also an original NFT.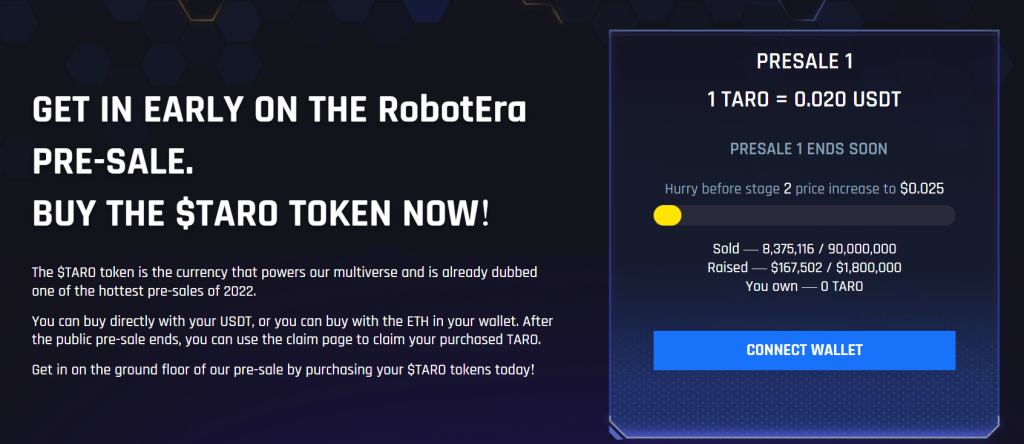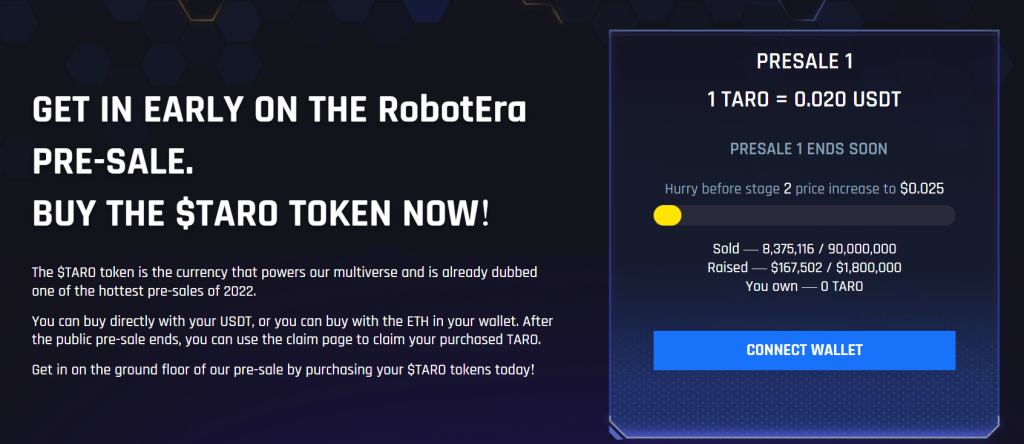 The project is also present in the presale stage, so early investors may be able to get TARO tokens for $0.020 before the price climbs. The team has raised more than $165K in less than two weeks since the project's start. 
Visit RobotEra Presale
IMPT
IMPT has become one of the year's most intriguing initiatives due to its unique approach to sustainability. This coin was created based on the common practice of trading carbon credits, which aids both individuals and organizations in lowering their carbon footprints. Consider IMPT if you're wondering which cryptocurrency to buy in the present bear market.
IMPT aims to be the most ecologically friendly cryptocurrency by transforming these carbon credits into NFTs. This eliminates the problem of "double counting" in the traditional carbon credit market and ensures holders have "real ownership."
Making an impact has never been easier! ♻️

✅ #IMPT offers simple and effective mechanisms to tackle climate change!

Don't miss out! Buy $IMPT now to earn carbon credits and make a step toward our carbon-neutral future! 🚀

Join the presale now ⬇️https://t.co/8KSvC4GHjF pic.twitter.com/69jqDIV7Cx

— IMPT.io (@IMPT_token) November 21, 2022
Holders can even trade their carbon credits for a one-of-a-kind NFT. IMPT tokens will be used by network members to buy and trade these carbon credits, according to the IMPT whitepaper. These ERC-20 tokens, which serve as the platform's transactional currency, can be purchased by users from one or more of the platform's affiliate businesses.
IMPT has partnered with thousands of retailers to offer IMPT tokens in return as a percentage of a sale, with the tokens then converted into carbon credits. #DigifinexAirdrop

— Olive Ernest (@OliveErnest2) November 7, 2022
IMPT has partnered with many well-known firms, so if a user purchases through one of them, they will receive IMPT tokens. These companies include Lego, GameStop, Macy's, and Booking.com, while more are added weekly.


IMPT is now in its presale phase, which enables investors to buy IMPT tokens at a lower price than with other projects. A token is currently worth almost $0.023, and afterward, it will rise to $0.028. Given that it has already collected over $13 million in funding, IMPT could be the finest cryptocurrency to purchase at the moment.
Visit IMPT Presale
Tamadoge (TAMA)
TAMA is the native currency of Tamadoge, a non-fungible token (NFT) that runs on a blockchain game platform that immerses users in the metaverse. The Tamadoge coin, however, has recently fared very well as a result of many factors. TAMA is also used by investors to support NFT trading in the Tamadoge in-app market.
Investors will find it considerably simpler to convert their tokens into cash now that the asset has been made available on Gate.io. In addition, gamers may purchase NFT-based pets through Tamagoe. TAMA prices are being influenced by excellent developments in the Tamadoge network and a recent official announcement about the TAMA token has been listed on the well-known Gate.io market.
📣 Attention #TamadogeArmy! 📣$TAMA Is Now Live On @gate_io – Tier 1 #CEX 🚀

Join The #TamadogeArmy – Buy $TAMA Now!https://t.co/URdCJ0ZekO#memecoin #listing #crypto #altcoin #gateio pic.twitter.com/4v7gq2BRhm

— TAMADOGE (@Tamadogecoin) November 10, 2022
The bullish cryptocurrency market, meanwhile, had a big impact on the price of Tamadoge coins. The well-known Gate.io exchange officially listed the Tamadoge gaming environment on November 10; it is now open for retail spot trading right away, according to the ecosystem's creators.
Several exchanges, including LBank, OKX, MEXC, and others, have listed the Tamadoge asset thus far throughout the course of the preceding month. With Gate.io having more than 10 million users, this transaction might provide TAMA with its biggest level of investor exposure to date.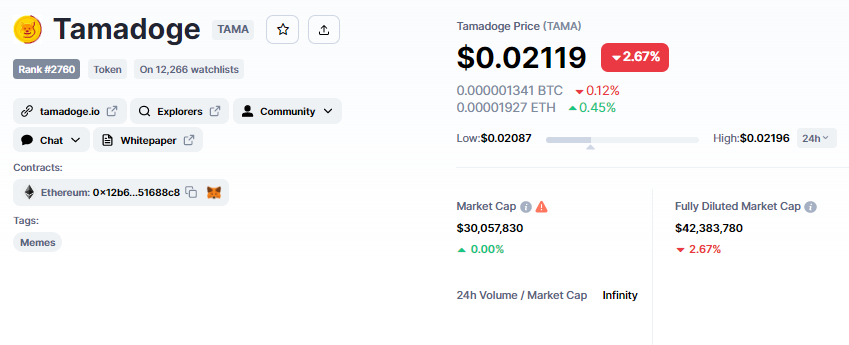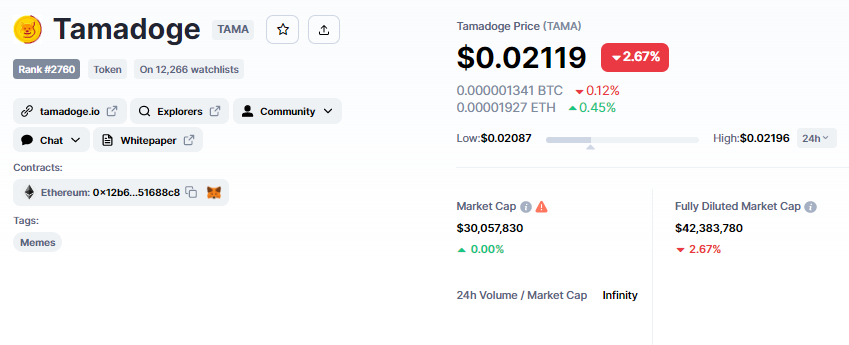 The current Tamadoge price is $0.0212 with a $1.3 million 24-hour trading volume. On the last day, Tamadoge decreased by 2% while the live market cap is $30 million. Coinmarketcap's current market ranking is 2758. There is a maximum quantity of 2,000,000,000 TAMA coins and no known circulating supply.
Related:
Dash 2 Trade – High Potential Presale
Active Presale Live Now – dash2trade.com
Native Token of Crypto Signals Ecosystem
KYC Verified & Audited