ARG Sinks Almost 30% after World Cup Loss against Saudi Arabia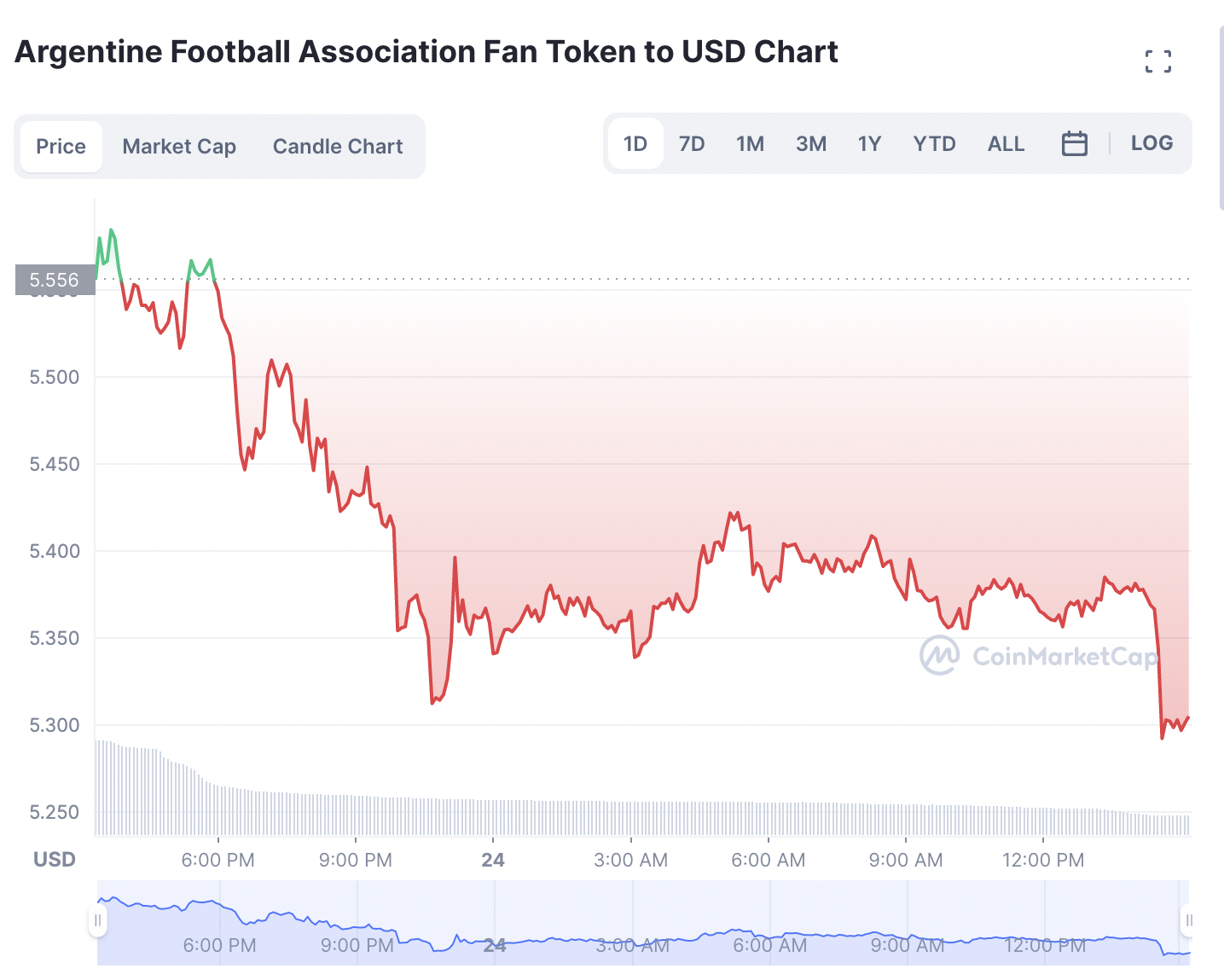 With the tournament favorite ousted by Saudi Arabia, the cost of Argentina's crypto fan token plunged.
If anything, Argentina's debut defeat in the world's finest sport must sting even more. Argentina's loss hit the country hard emotionally, and investors dumped their ARG tokens, causing a 30 percent drop in value.
The come-from-behind victory by Saudi Arabia over Argentina was a big upset at the World Cup and put an end to Argentina's unbeaten streak of 36 games.
Fans Were Affected By the Cost of ARG Tokens
Socios.com, in conjunction with other soccer teams, creates ARG tokens on the Chiliz blockchain. These tokens function in the same way as other digital crypto tokens. They provide patrons with privileges and a voice in the decisions made by sponsored organizations. 
You may buy them on cryptocurrency exchanges like OKX, and they function in the same way as other cryptocurrencies. Even while investors can place bets on the success of their favorite club, they do not become owners in the process.
Because of the wild swings in price, fans risk losing money, especially since the whole cryptocurrency industry is still reeling from the recent collapse of the crypto exchange FTX earlier this month.
A growing number of the world's best football teams, including Manchester City FC, FC Barcelona, Paris Saint-Germain F.C., and even some national teams, expressed interest in collaborating with Bitci.com and Socios.com last year to develop fan tokens. These tokens have been unjustly hailed as the next source of revenue, which has prompted multi-million dollar investments.
Since the start of the FIFA World Cup this week, the value of certain fan tokens linked with national teams has plummeted. Among these are the Chiliz blockchain's primary token, the Spain National Fan Token, and the Bitci.com-developed Brazil National Football Team Fan Token.
The FIFA World Cup Is the Most Talked About Thing around the World Right Now
Chiliz and the Argentine Football Association worked together to create the ARG token, an ERC-20 token that can be purchased using the Socios app. It's listed on several exchanges, including OKX and Gate.io.
The current FIFA World Cup in Qatar is easily one of the most popular events in the world. Demand for fan tokens increased in the lead-up to the opening round of matches, reflecting the fervor of soccer fans from across the world.
Related Articles
Where to Buy Dash 2 Trade
Best World Cup 2022 Crypto Betting Websites
Dash 2 Trade – High Potential Presale
Active Presale Live Now – dash2trade.com
Native Token of Crypto Signals Ecosystem
KYC Verified & Audited