5 Next Cryptocurrency to Explode – June 2022 Week 2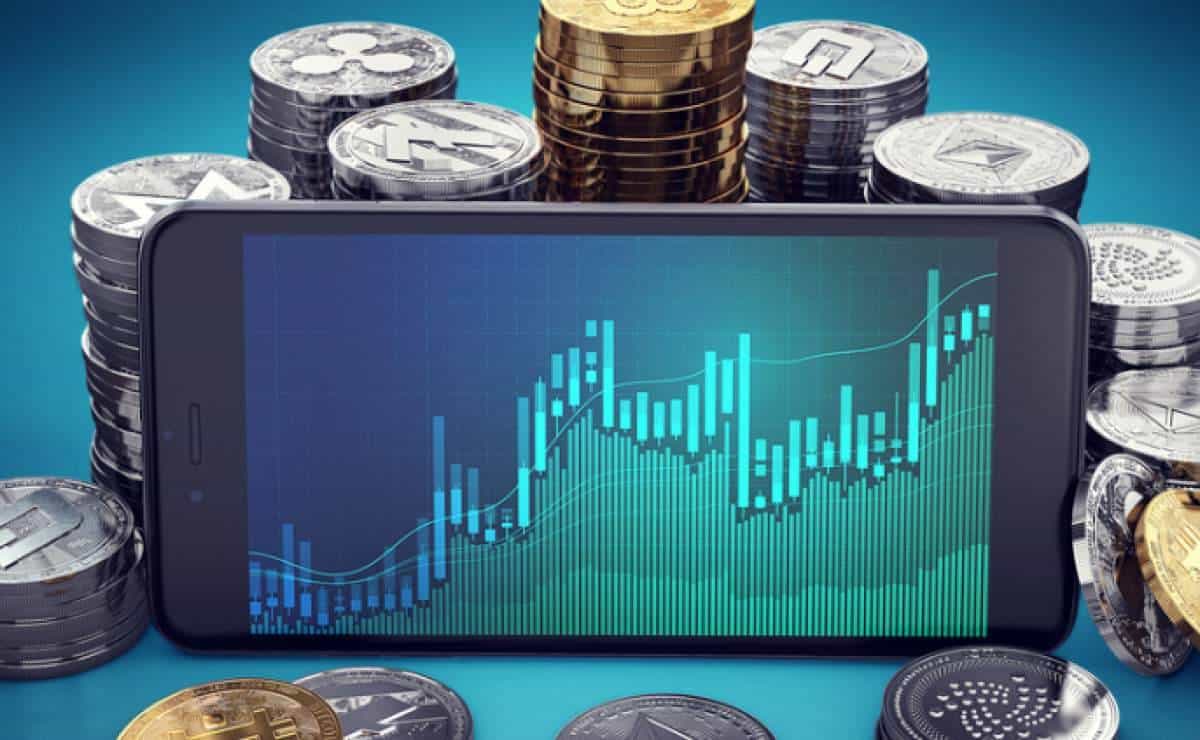 After a dip yesterday, the cryptocurrency market has recovered some lost ground. Its total cap has returned to $1.3 trillion, representing a 2% increase in the past 24 hours. Bitcoin (BTC) has led this bump, although certain other coins have posted even bigger above-average gains today. We look at the most promising of them in this list of the 5 next cryptocurrency to explode.
5 Next Cryptocurrency to Explode
1. Bitcoin (BTC)
BTC is up by 3% in the past 24 hours, at $30,534. This is a 4% drop in the past week, but a 3% increase in the past fortnight.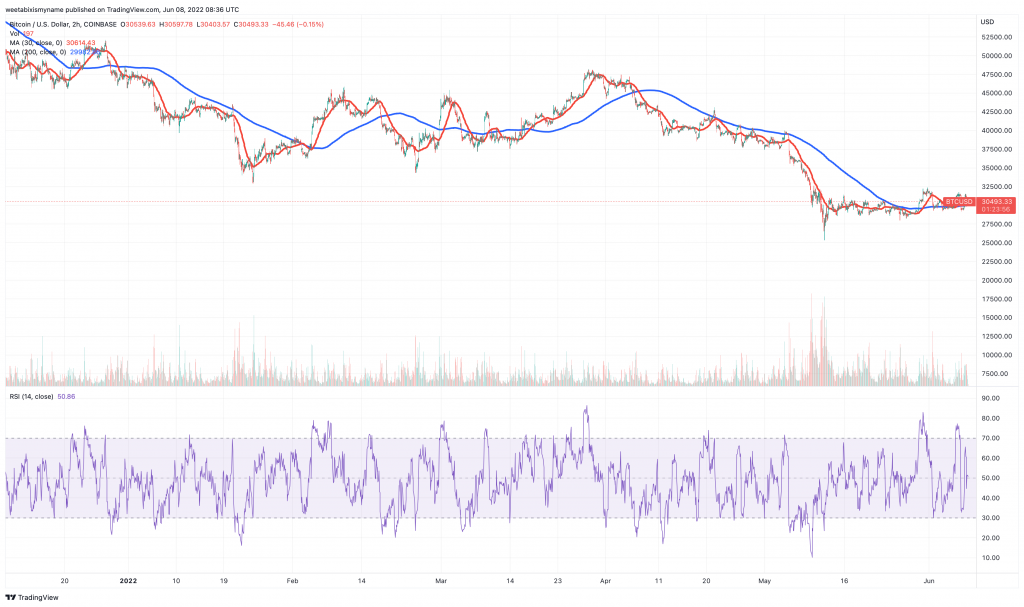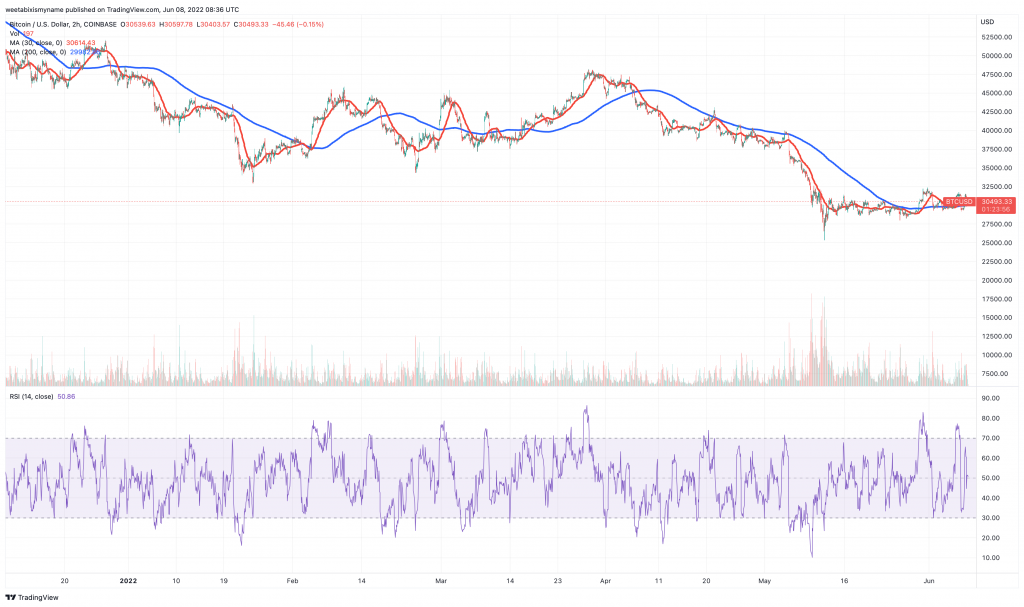 BTC's indicators reflect turbulent market conditions. Its relative strength index (in purple) has mostly been under 50 since the start of April. It has just peaked above 50, which could indicate a rally. But as with previous movements to 50, it could be a false start.
Despite BTC's indecision, it is probably the 'safest' cryptocurrency in the market right now. Most important in this regard is the fact that its dominance of the market has crept steadily up in the past month. From about 41.5% on May 11, this dominance is up to 46.6%, according to CoinMarketCap.
In other words, the ongoing bear market is pushing more traders and investors towards BTC, as a relative safe haven. For instance, ETH is down by 28% in the past month, whereas BTC has dropped by 'only' 10%. BTC's 24-hour gain is also bigger than ETH's, at 3% compared to 2%.
Its above-average performance is reflected by Blockchaincenter.net's Altcoin Season Index showing that it's currently "Bitcoin Season." This means it has outperformed most of the market. And with the market relying on BTC to kickstart any real recovery, the latter is likely the way to go during a bear market.
2. Cardano (ADA)
At $0.632951, ADA is up by 7% in the past 24 hours. And while it's basically flat in the past week, it's up by 21% in the last 14 days.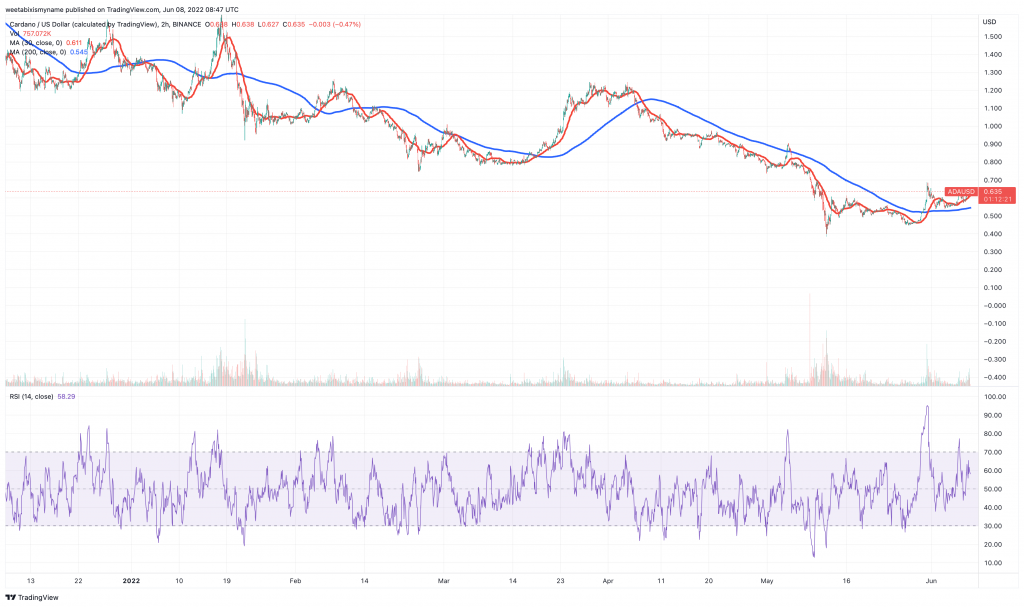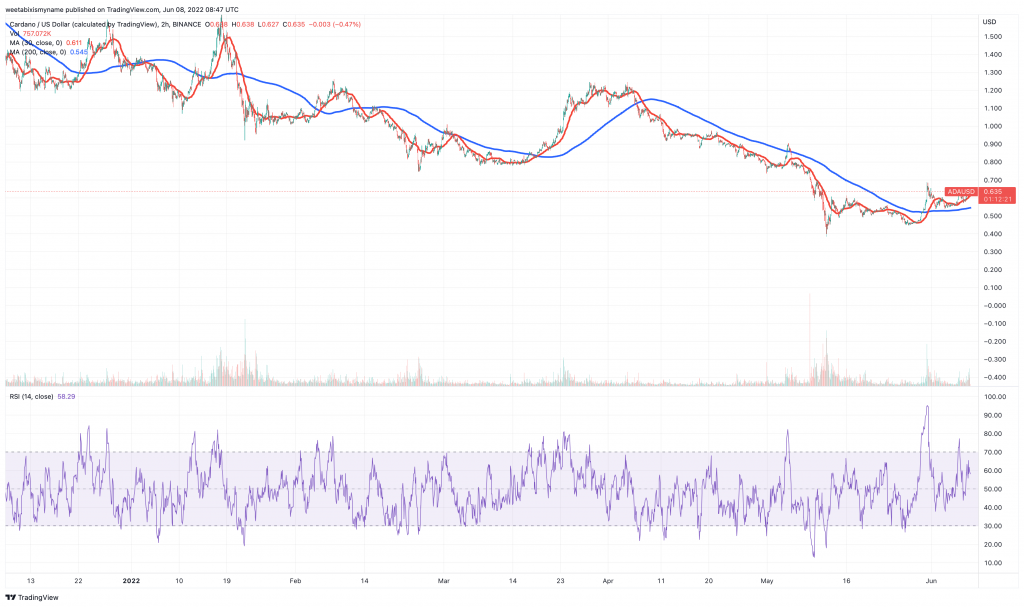 ADA is one of the strongest coins in the top-100 right now. Its RSI has risen above 60, indicating good momentum. Likewise, its 30-day moving average (in red) overtook its 200-day average (in blue) a few days ago. This suggests a breakout rally, and a movement to a higher long-term level.
There are plenty of reasons why ADA is performing well. Most notably, native platform Cardano is witnessing an increase in transaction volumes and usage. It recorded a transaction volume of nearly $10 billion a week or so ago, while it has now issued just over five million NFTs. Similarly, the number of dapps building on its network has just passed 1,000. This suggests that once the Cardano ecosystem becomes more active, demand for ADA could surge.
The ecosystem is growing at a fast pace with 1003 projects already #BuildingOnCardano

Many of these projects will be in Austin at @Consensus2022 & at the free #CardanoAtConsensus meetup on 6/08

Meet them by registering your attendance to the meetup here: https://t.co/maxUVW7pYV pic.twitter.com/s0X4DP8H48

— Input Output (@InputOutputHK) June 7, 2022
Cardano has also benefitted from the missteps of its rivals, with Solana in particular suffering from a number of outages. Some investors are looking for alternatives, with Cardano being an increasing favourite.
This was a question I posed to some of our team members during our team offsite.

Are the outages and issues @solana are having worrisome? If @solana suddenly absorbed a user base equal to @ethereum could it handle it? Can it scale? https://t.co/v0zzFqTTaJ

— Messari (@MessariCrypto) May 27, 2022
3. Theta Network (THETA)
THETA is up by 9% in the past 24 hours, at $1.34. It is, however, down by 0.9% in the past week, but up by 5% in the last 14 days. It's also down by 35% in the last 30 days, and by 91% since reaching an all-time high of $15.72 in April of last year.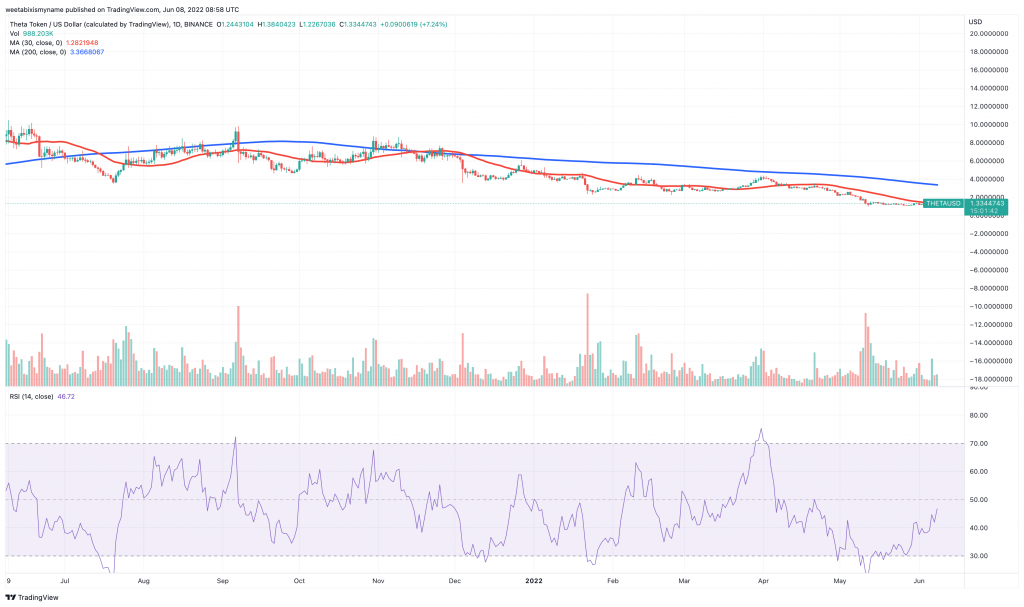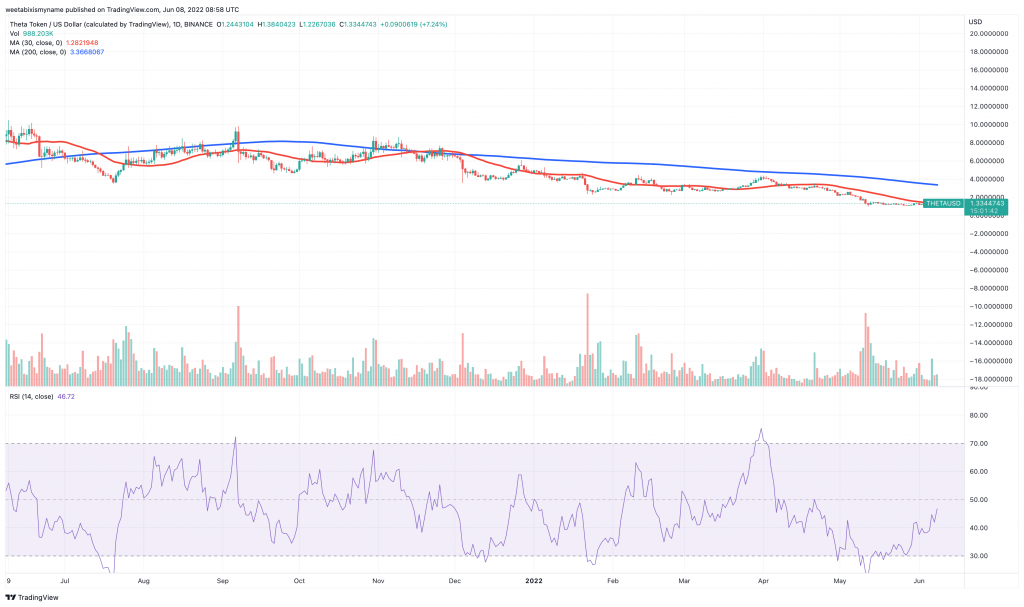 THETA's one-year RSI chart shows that, after hitting a bottom in mid-May, it's climbing its way back up. And with it falling so spectacularly from its ATH, it room to grow.
Relative to its fundamentals, THETA does seem undervalued. Its native platform, the Theta Network, is a blockchain-based video and media network. More simply, it's a Web3 network, and is therefore positioned well to take advantage of rising interest in NFTs and the metaverse.


Recent developments reinforce this suspicion. In April, the Theta Network announced the Theta Metachain, a new update to its blockchain. This will be geared towards Web3 businesses, and promises that it will enable "the metaverse to scale to 10x today's platforms."
Introducing the next evolution of Theta blockchain – Theta Metachain goes live in Q4 2022. Learn how Theta Metachain is designed to scale to the needs of Web3 businesses in the new whitepaper: https://t.co/5FnRkKgvIp pic.twitter.com/k8L8vpheXX

— Theta Network (@Theta_Network) April 8, 2022
More generally, Theta has launched a variety of products and platforms that increase the value it offers. This includes the Metapass, a NFT-based ticketing platform running on Theta. Given the potential of the whole metaverse/Web3/NFT space, and given Theta's recent moves, THETA could appreciate considerably in the not-too distant future. This is why it's on our list of the 5 next cryptocurrency to explode.
Want to learn more about Metapass, the 1st permissionless, decentralized NFT ticketing platform powered by Theta? Watch our Q&A featuring the @metapass_world team and @wes_levitt of Theta Labs here: https://t.co/auA92X8bGG pic.twitter.com/UCfWDRIXjy

— Theta Network (@Theta_Network) June 3, 2022
4. Chainlink (LINK)
LINK is up by 8% in the past 24 hours. At $8.30, it's also up by 8.5% in the past week, and by 14% in the past fortnight.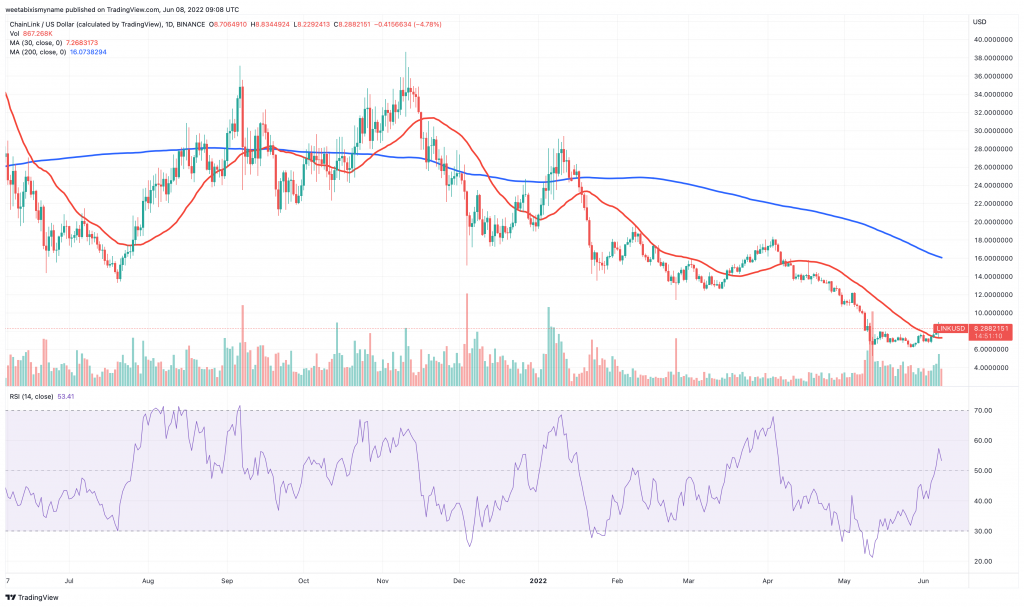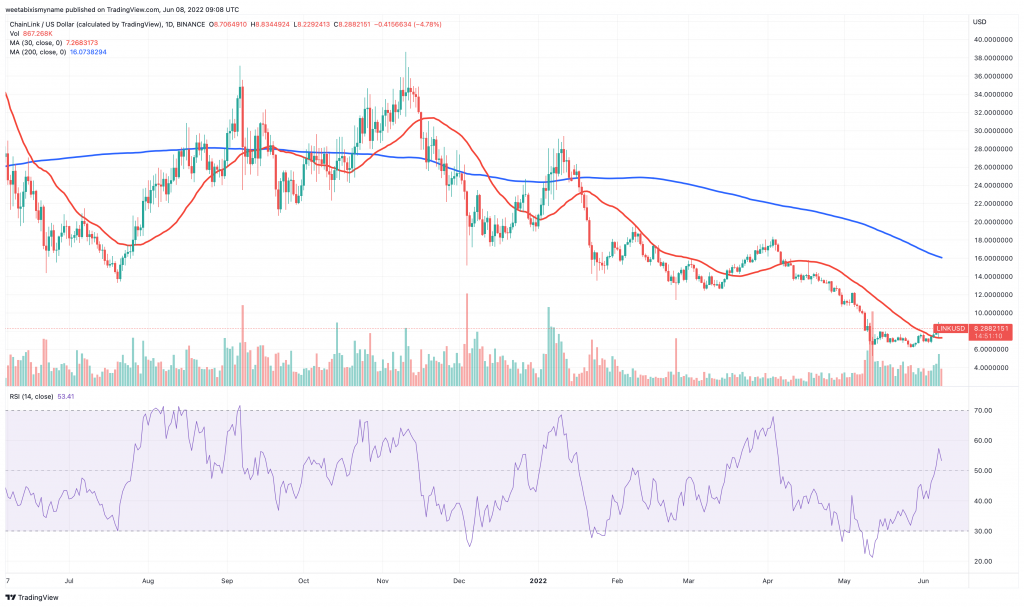 LINK's one-year chart suggests that the altcoin could be turning a corner. Its 30-day average is well below its 200-day, yet its descent seems to be levelling off. This corresponds to an increase in its RSI, which has neared 60 in the past few days. Assuming cyclicality, it could be in for a rally of sorts.
On the fundamental side, Chainlink is on the cusp of introducing staking for its network. Announced yesterday, this is due to be implemented "for the second half of 2022." Needless to say, the promise of staking has increased demand for LINK, while also inspiring confidence in the long-term security of the Chainlink network.
Staking marks the start of #Chainlink Economics 2.0, a new era for the long-term security and sustainability of oracle networks.

In this update, we define the long-term goals, roadmap, and initial implementation of staking in the Chainlink Network.https://t.co/WJkoUzPA0i

— Chainlink (@chainlink) June 7, 2022
Chainlink is an oracle network which provides other chains with reliable off-chain data, which is necessary for the functioning of smart contracts. Strengthening its bull case, for instance, have been a number of recent integrations, on chains such as Ethereum, Binance Smart Chain and Polygon.
⬡ Chainlink Adoption Update ⬡

This week, there were 12 integrations of 5 #Chainlink services across 4 different chains: #BNBChain, #Ethereum, #Polygon, and #Solana.

With VRF v2 now available on Polygon and Price Feeds on Solana, #Web3 development has never been easier. pic.twitter.com/CVWHRNq8DW

— Chainlink (@chainlink) June 5, 2022
5. Neo (NEO)
At $12.37, NEO is up by 7% in the past 24 hours. It's also up by 10% in the past fortnight, but down by 22% in the past month.
NEO's chart also signals a potential turnaround and short-term rally. Its 30-day average looks like it could begin climbing upwards, helped by its RSI.
NEO is a proof-of-stake layer-one blockchain network, cable of running DeFi, Web3 and other dapps. While it has been around since 2014, it has gained some renewed prominence in 2022. One major source of this was the February announcement that it was chosen to work on China's Blockchain-based Service Network (BSN), something which served as a major endorsement for the chain.
More recently, Neo has announced an EcoBoost program worth $200 million. It will serve to distribute funding to projects building on Neo, helping the latter to grow further. And because NEO is relatively undervalued, it makes the cut as one of our 5 next cryptocurrency to explode.
💚 Let us properly introduce the EcoBoost program to you! In which, #Neo has dedicated $200 Million to foster projects in the Neo ecosystem.

👇Check it out! https://t.co/3x6bvYWQez

— Neo Smart Economy (@Neo_Blockchain) June 1, 2022
Capital at risk
Read more: