101 Blockchains Black Friday Sale has Landed Early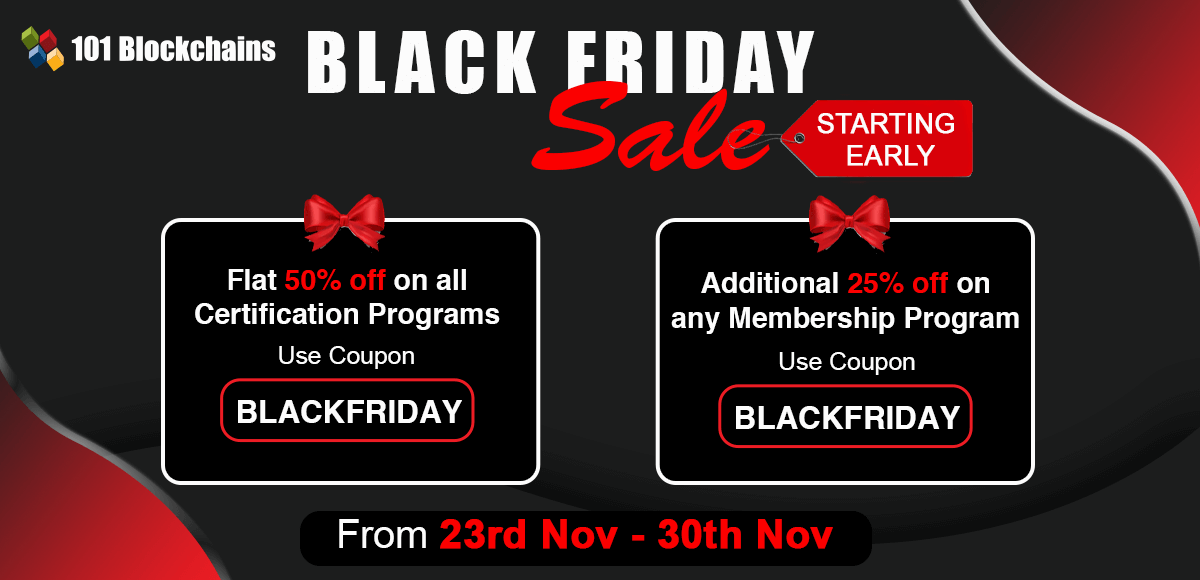 The 101 Blockchains Black Friday Sale is live! So, brace yourself for the unique offers that you can find in this sale. Yes, we are happy to announce that the 101 Blockchains Black Friday Sale 2022 has started early. The spirit of Thanksgiving Day celebrations would become better with the holiday season deals and offers.Just like every year, the Black Friday Sale will be one of the notable events for all aspiring blockchain learners. You can find your favorite training courses and certifications at the best deals possible.
The trust and belief of users in the capabilities and services of 101 Blockchains have played a crucial role in fuelling our efforts. So, we want all learners to find courses and certification programs on blockchain technology and related concepts at the best price possible. Let us show you what the Black Friday Sale brings for you in 2022.
Get ready to level up your career with our high-quality blockchain certifications. Get Flat 50% OFF on any Certification Program, Use Coupon BLACKFRIDAY
Important Highlights of the 101 Blockchains Black Friday Sale 2022
Welcome Festivities with the Black Friday Sale on 101 Blockchains
The Black Friday Sale i.e. 101 Blockchains sale of the year always brings some exciting offerings for all learners. What is special about the occasion? Is there any specific reason for the deals offered on 101 Blockchains during the sale? Black Friday could probably lead to negative thoughts regarding the day.
However, it has become a popular tradition worldwide to continue the Thanksgiving holiday into the weekend. Many businesses have opened up to the trend of Black Friday sales as it falls on the day after Thanksgiving. People throng retail stores on the eve of Black Friday sales to fetch their favorite products at discounted prices.
In a way, the 101 Blockchains grand sale on Black Friday is more than just about the discounts. You can think of the sale as an opportunity for learners to come together and celebrate Thanksgiving with the gift of education. Black Friday sales have been expanding into many domains, particularly online education and training platforms. Starting from Thanksgiving Day, the sale lasts until Monday, known as Cyber Monday. As we have been developing our identity as a top blockchain training and certification provider, we want to continue our Black Friday Sale tradition.
Want to learn blockchain technology in detail? Enroll Now in Certified Enterprise Blockchain Professional (CEBP) Course
Offers in the 101 Blockchains Black Friday Sale
The Black Friday Sale brings many unique 101 Blockchains offers to help you enroll for the courses and certifications of your choice. Our courses and certifications have been a popular choice for aspiring blockchain professionals. With the Black Friday sale, we have always tried to make our blockchain resources accessible to every learner. Since blockchain courses and certifications are new in the market, people would have various doubts about pursuing them. At the same time, the cost factor might also work as a setback for many students interested in learning blockchain.
However, you don't have to bother about the pricing of courses and certifications as 101 Blockchains' best deals during the Black Friday Sale can offer relief. You may have multiple reasons for enrolling in a blockchain course or certification. For example, you might think of offering a blockchain training course, certification, or membership program as a gift to your friends or relatives. On the other hand, you could also enroll yourself in the selected blockchain certification or a membership program at lower prices.
The Black Friday Sale is a credible platform for exploring new certifications or courses on blockchain and emerging concepts. It brings better opportunities for understanding the new technology and how it could help in developing your career. We will start off the 101 Blockchains Black Friday Sale 2022 before Thanksgiving which will run till Nov 30, 2022.
Start learning Blockchain with Worlds first Blockchain Skill Paths with quality resources tailored by industry experts Now!
Main Highlights for 101 Blockchains Black Friday Sale
The interesting fact about the Black Friday Sale this year is that we have come up with two distinct offerings. You could use 101 Blockchains coupons to get the benefits of the discounts on membership programs and certification courses. The new highlight for all students is the introduction of training courses on the latest and innovative concepts in blockchain technology. You can make the most of the new training courses and certifications alongside a comprehensive learning experience with our membership program. Here is an outline of the important offerings of the 101 Blockchains Black Friday sale 2022 that you can take advantage of.
Unbelievable Discounts on Certification Courses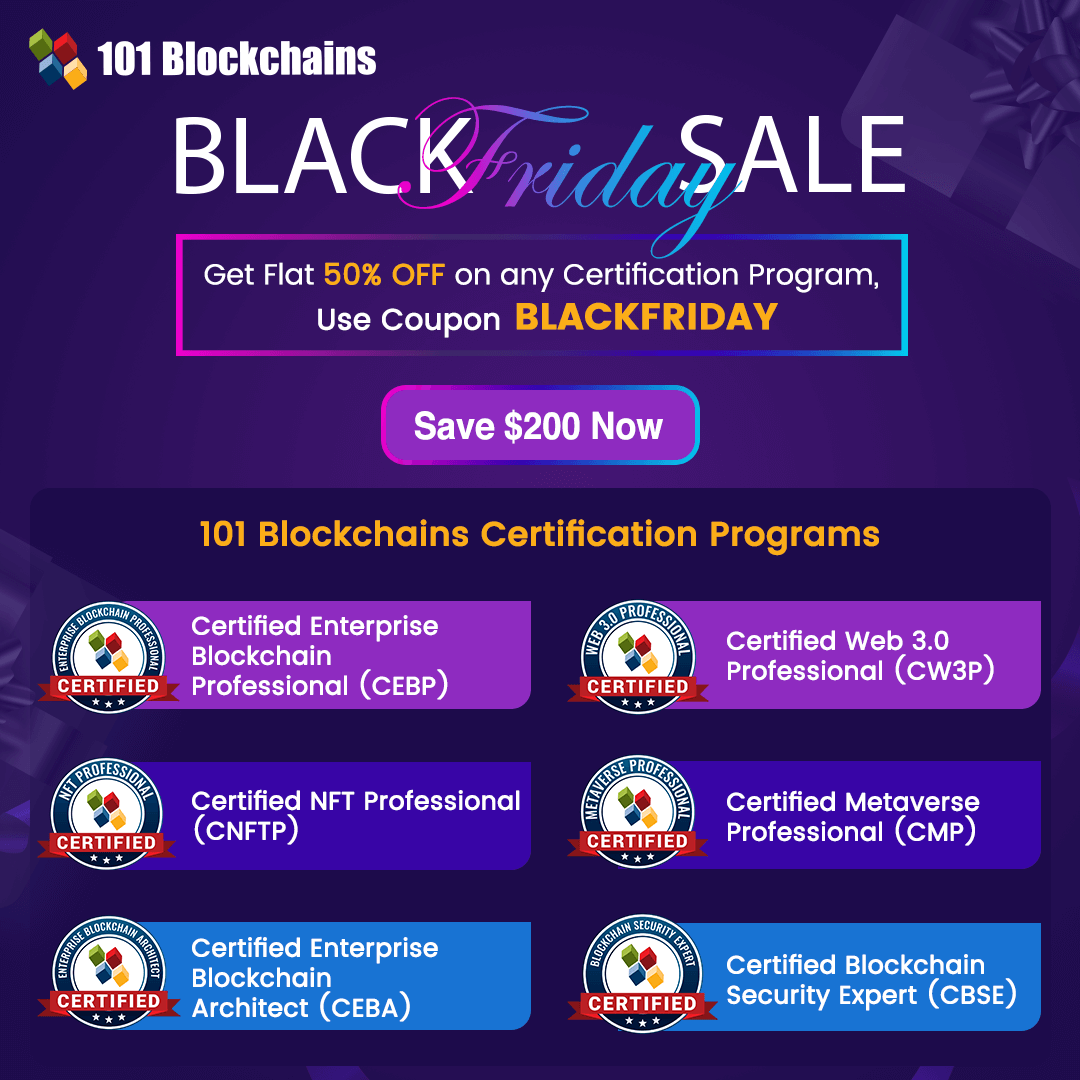 The best news for you in this year's 101 Blockchains grand sale is the facility of a direct 50% discount on certification training courses. You could use the coupon BLACKFRIDAY for enrolling in your desired blockchain certification training courses on 101 Blockchains at half the original cost. We have come up with new certification training courses on emerging concepts such as NFTs, metaverse, and web3. These certification courses will be helpful in expanding your fluency in blockchain technology concepts.
Incredible Deals on Membership Programs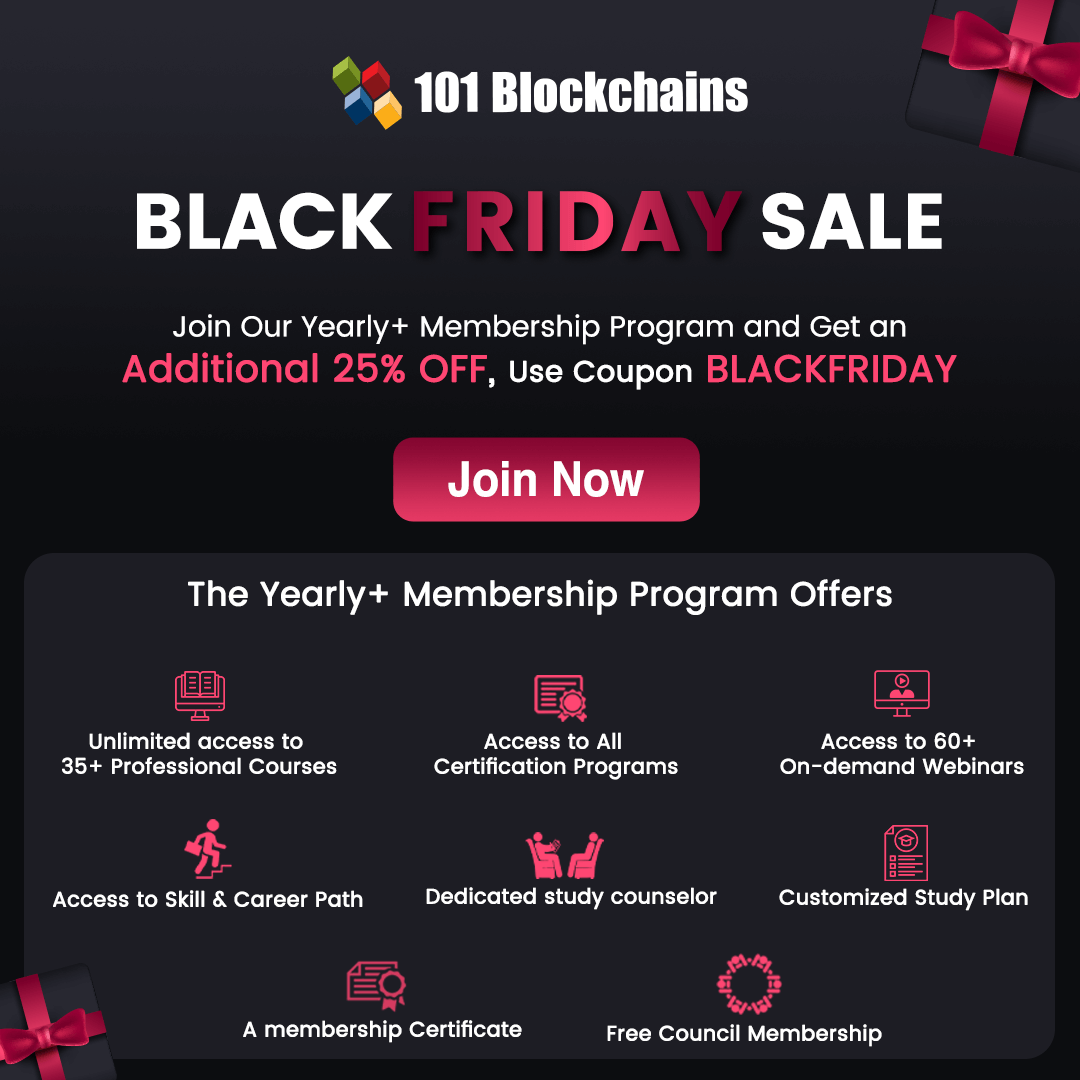 The 101 Blockchains' best deals in this Black Friday Sale would also include discounts on our membership programs. You can avail additional 25% discount on the Yearly as well as Yearly+ membership programs with couponBLACKFRIDAY. The membership program could help you access all our courses and certifications in one place without any restrictions. You can also get premium access to on-demand webinars, exclusive live events, and research sessions.
In this Black Friday sale, you could define your learning journey in the domain of blockchain and become an expert without worrying about costs.
Get Ready to Set New Goals with 101 Blockchains Black Friday Deals
The details of our Black Friday Sale show that our certifications and membership programs will create great opportunities for learning blockchain this Black Friday. Develop your skills in the technology of the future without the trouble of high costs. You can build your identity as a blockchain professional with 101 Blockchains offers on all the courses and certifications.
Our Black Friday Sale is starting on Nov 23 and would last till Nov 30, offering you the time to select the learning resources. You could take your time to identify the learning resources that could help you build your career in blockchain. At the same time, the membership programs could give you the option to access blockchain training resources for a year, at your convenience.
Start exploring the details of our certification courses and membership programs, and take your ideal picks now!
This article was originally reported on 101 Blockchains.